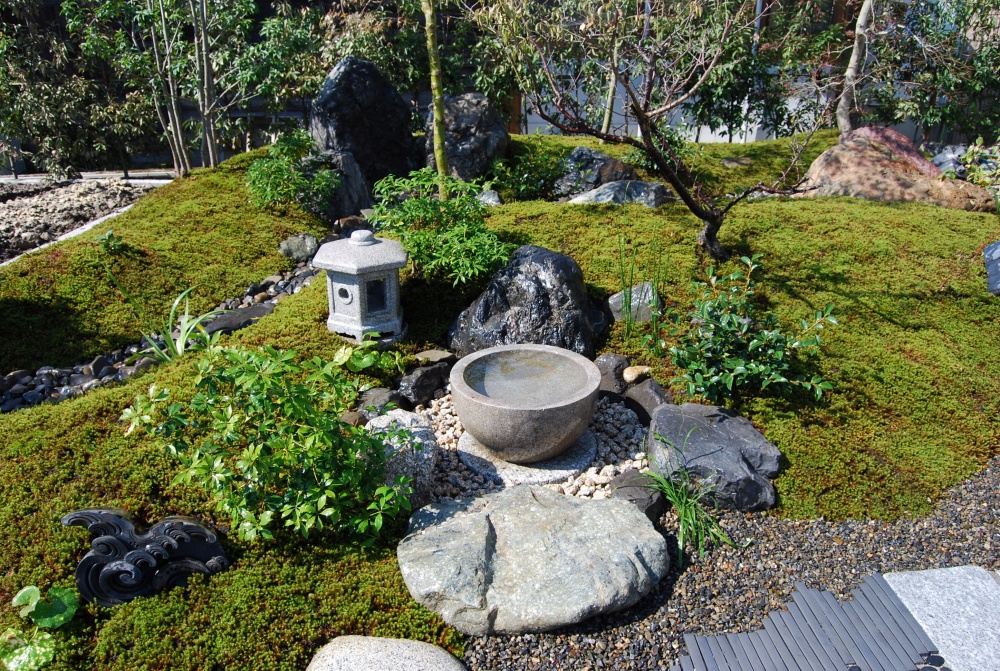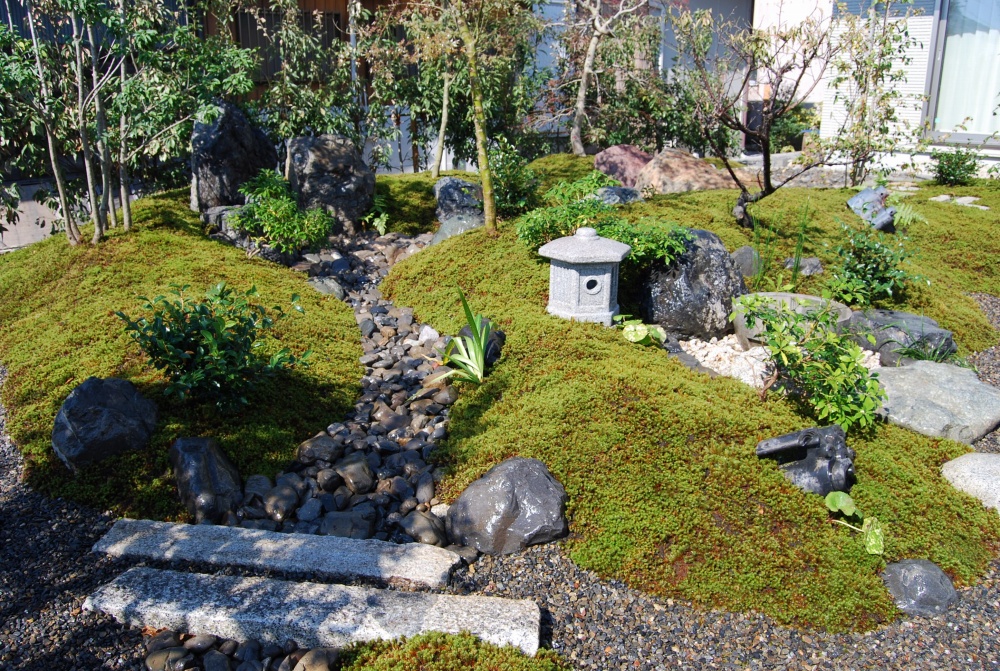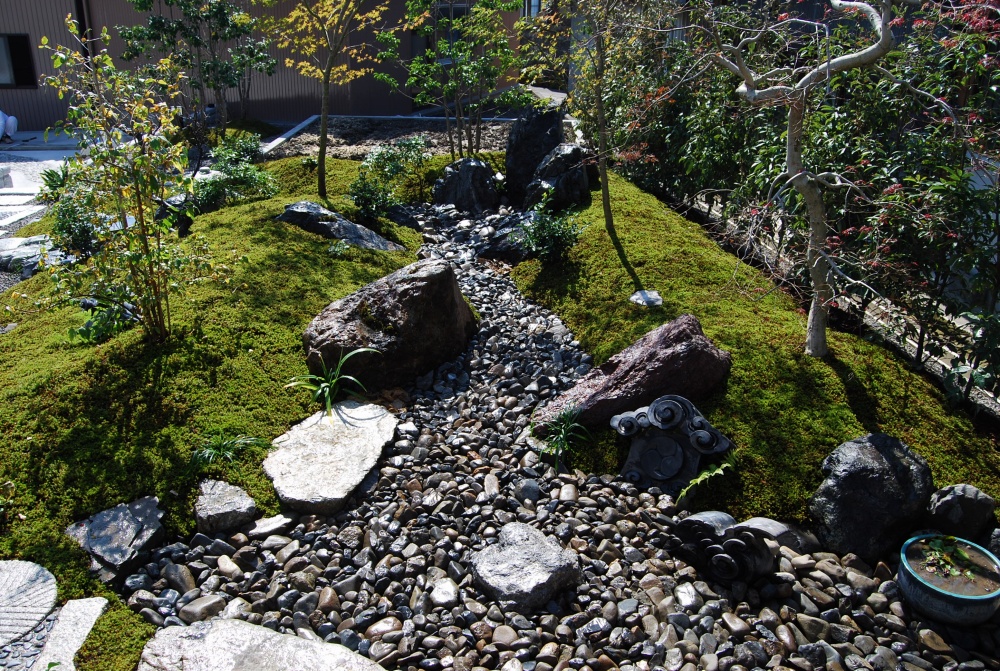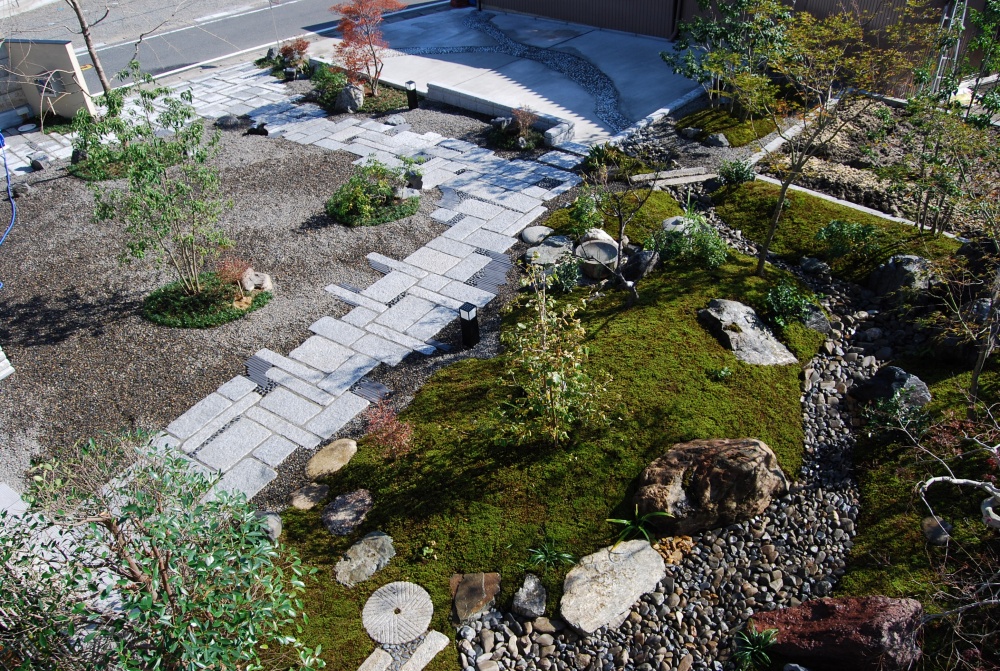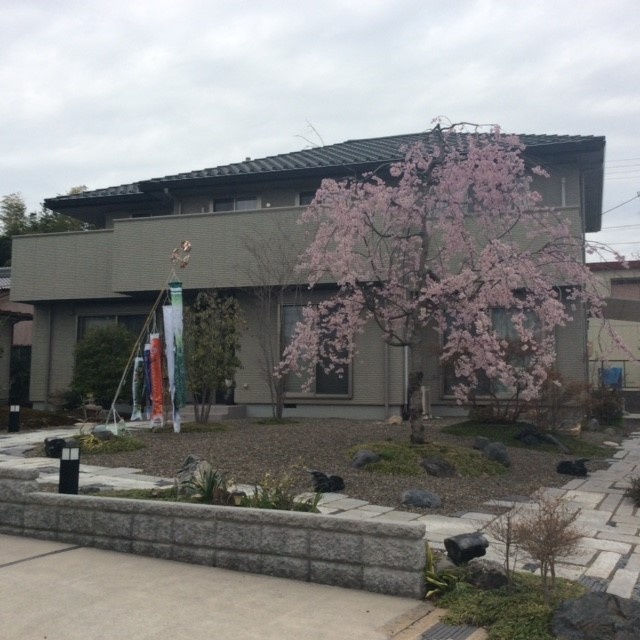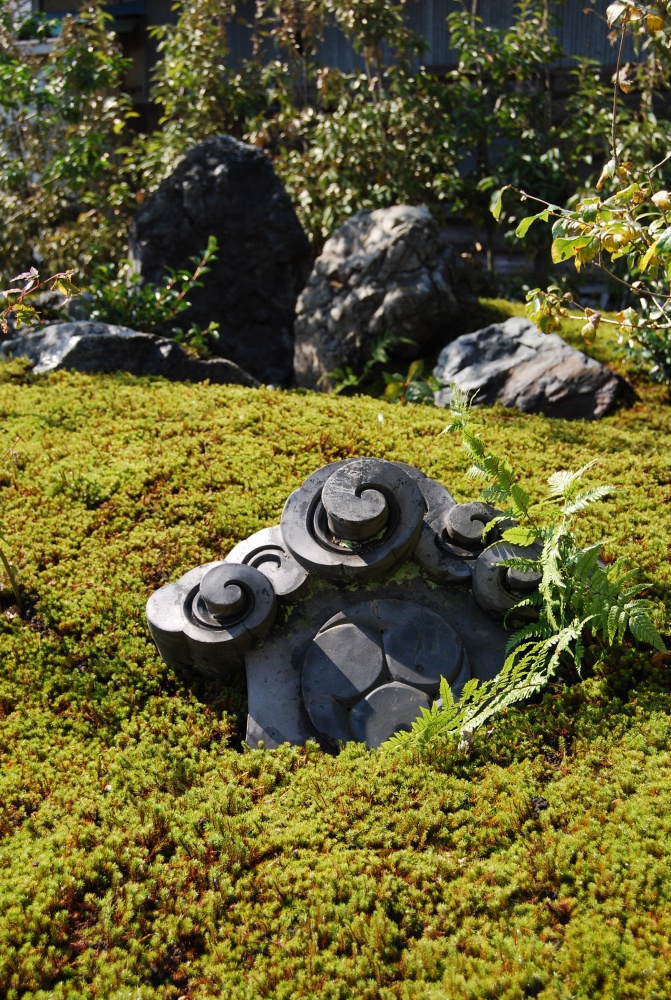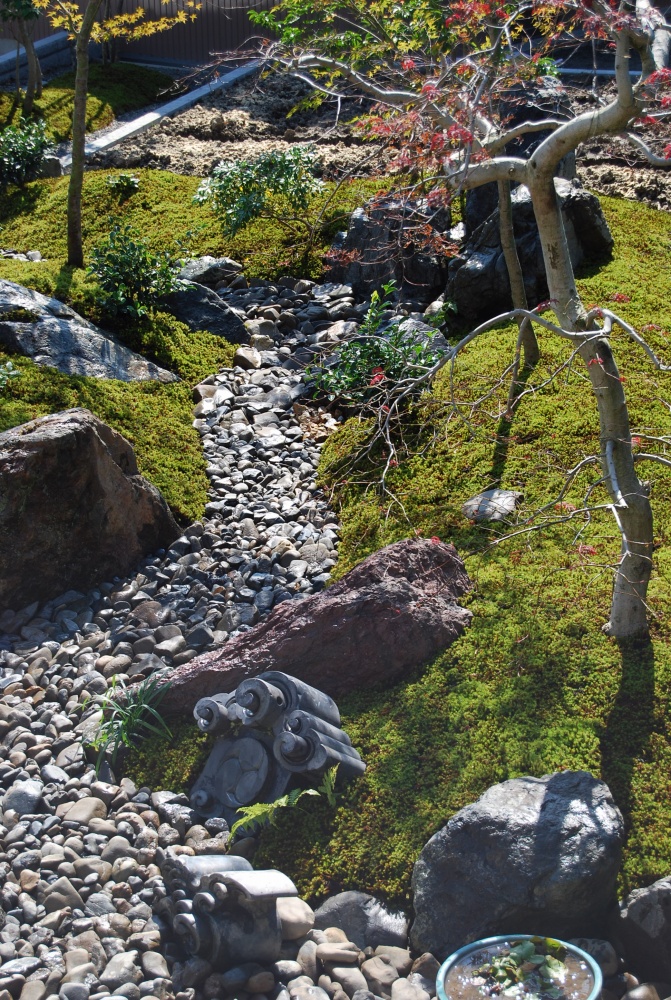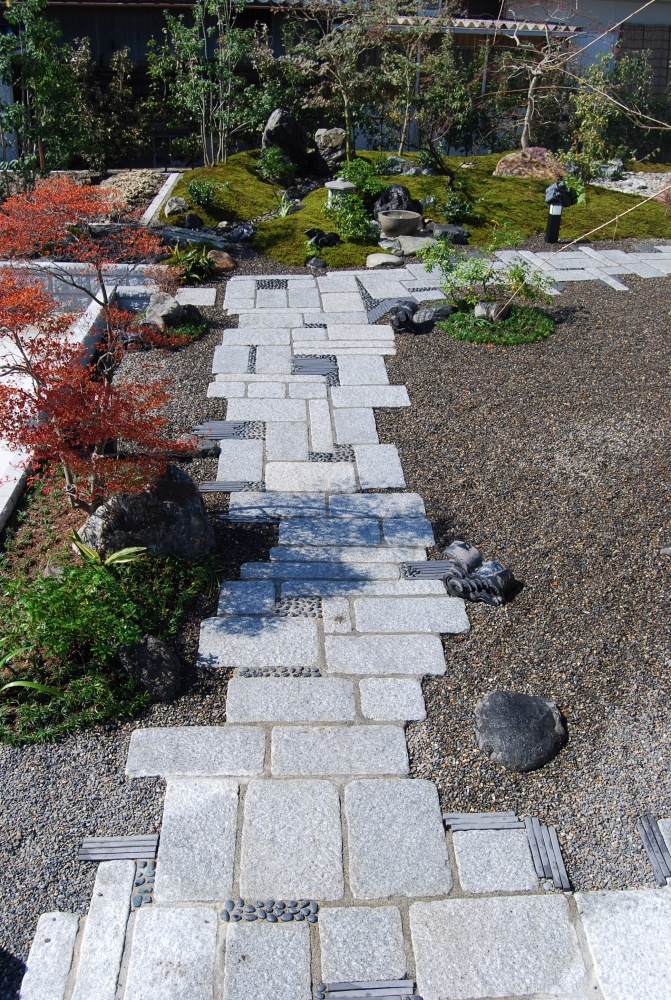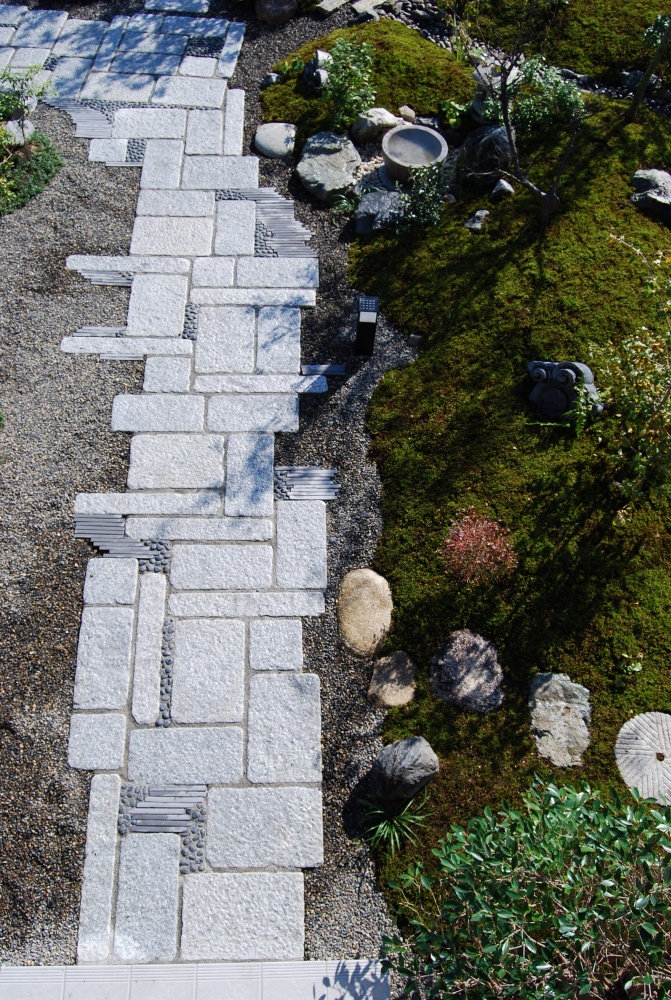 Ueyakato Landscape created this private domestic garden in the residential district of Ogaki City, Gifu Prefecture in response to a commission for a garden to complement a newly built home. The property's owners requested that the garden express the flourishing of their whole family and the bonds connecting one family generation to another.
In designing the garden, we focused on using traditional Japanese gardening methods while also creating a landscape to harmonize with the modern-style house. We expressed the bonds between family generations by recycling stones and tiles owned by the owners and using them to create a dry landscape garden with a dry stream.
The garden is broadly divided into a flat garden that starts from the front of the property and leads toward the house's entrance, and a dry landscape garden facing the back of the butsuma, the room where the family's Buddhist altar is kept.
We made the flat garden--which might also be called the front garden--as a simple garden with planted islands set inside gravel. The garden faces a modern-style path that uses straight tiles and naturally rounded black stones (tama-ishi) arranged in a flagstone design, resulting in a highly refined "formal" (shin) style interspersed with "semi-formal" (gyo) design patterns.
A dry landscape inner garden was created to be visible from the butsuma. We placed the garden's artificial mound and waterfall stone arrangement at the furthest possible point from the butsuma and created a dry stream that flows right up to the front of the room. As decorative scenery, the stream uses items owned by the owner's family for generations. These items include naturally rounded stones, water basins, millstones (now used as garden stepping stones), and tiles. Hence, the garden does not just express a ceaselessly continuing stream, it is itself a bond connecting family generations together.
As a minor accent, there is also a dry stream flowing from the back of the garden's artificial mound through the parking lot. To maximize enjoyment of the garden's spring greenery, flowers, and autumn leaves, each of its areas feature trees such as cherry blossoms, crepe myrtles, and maples.
This garden was developed through collaboration with its owner, who told us sometime later that, when watering the garden in the morning, the sunlight reflecting against the rounded stones and waterfall stone arrangement creates a positively sublime atmosphere from the butsuma. Herein lies one of the essential pleasures of Japanese gardens: the value added by the maturation of delightful scenery unanticipated by even the master gardeners who created them.
Location: Ogaki City, Gifu
Accessibility: not open to the public
Garden construction period: in 2011