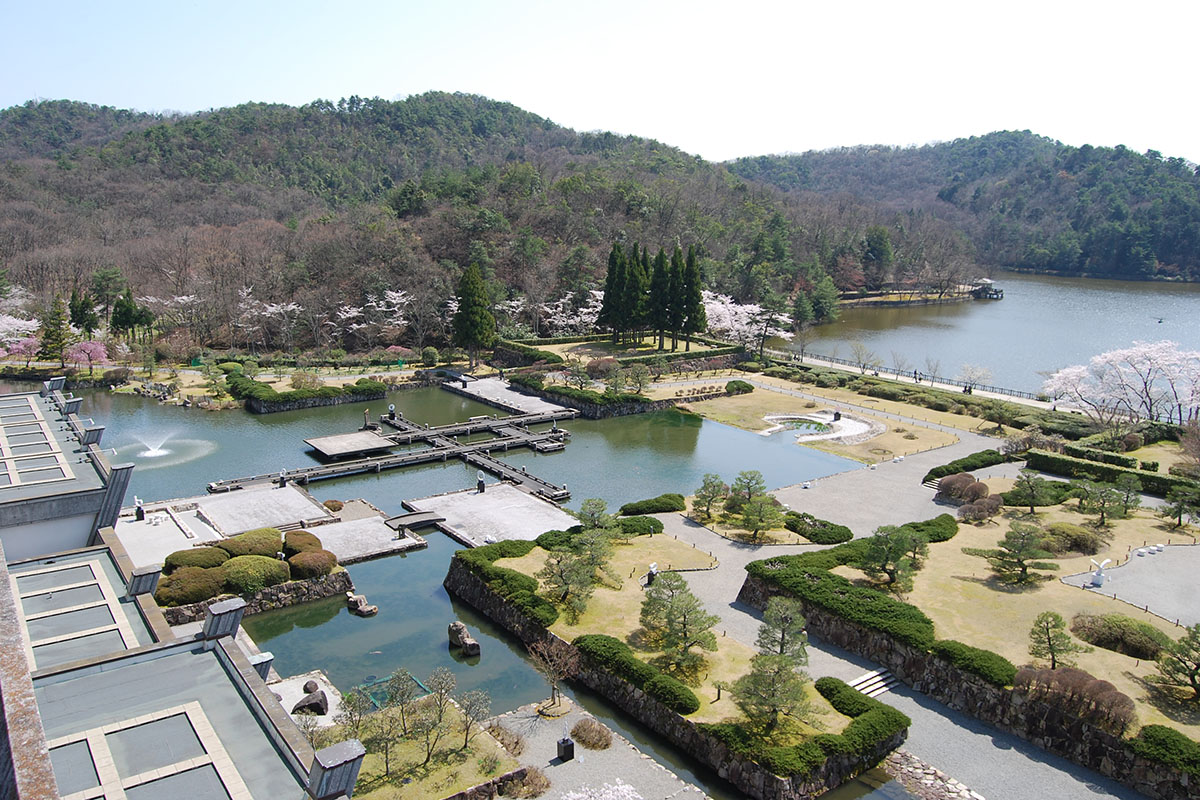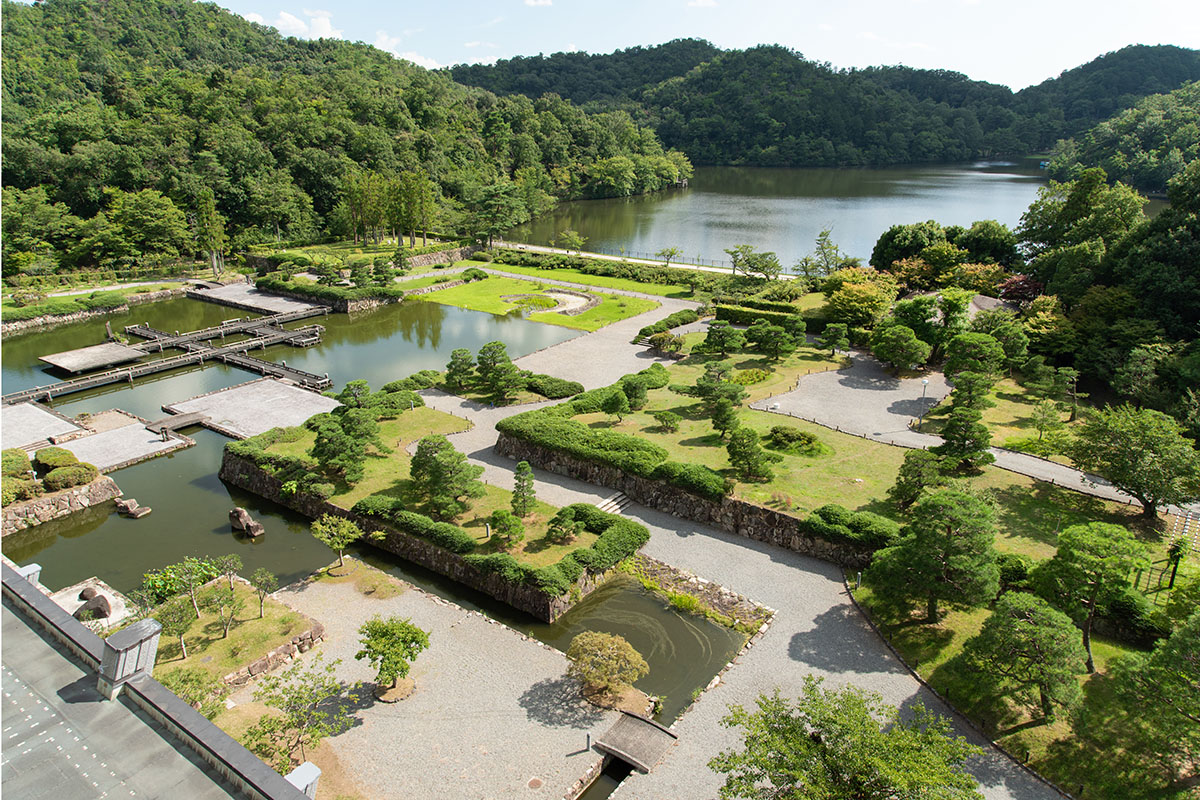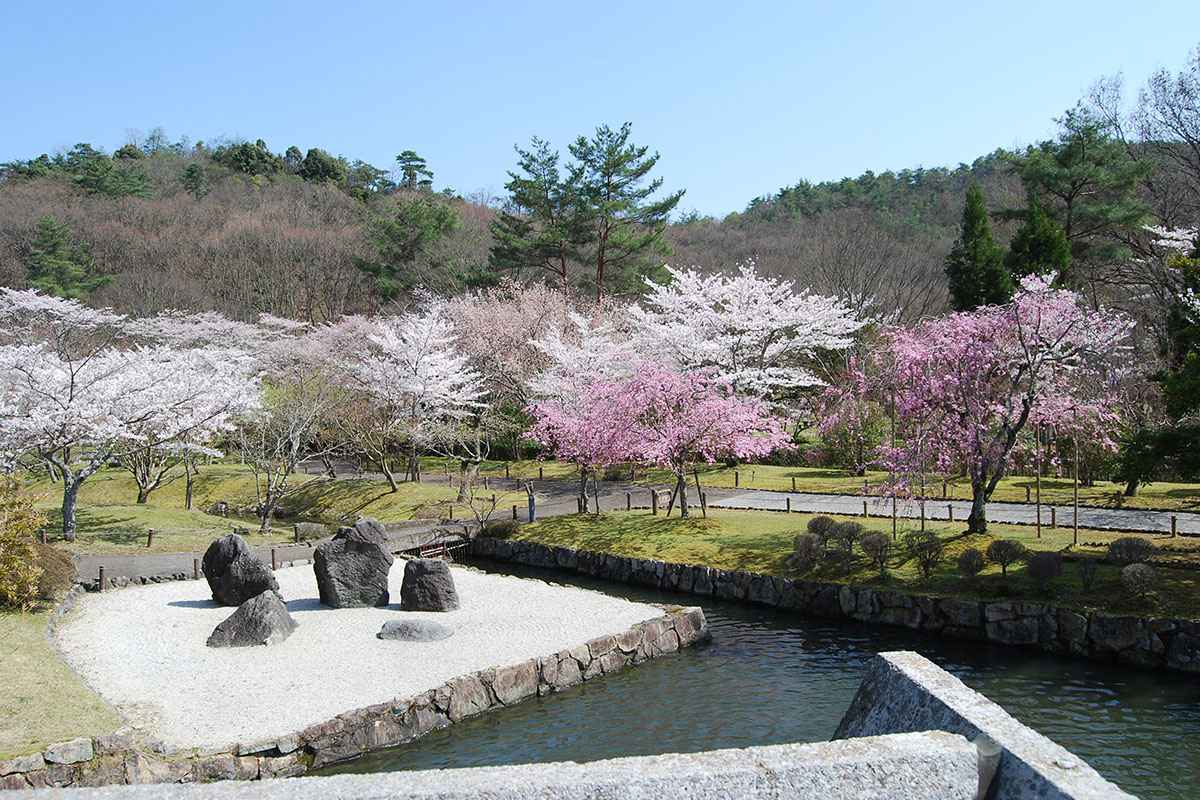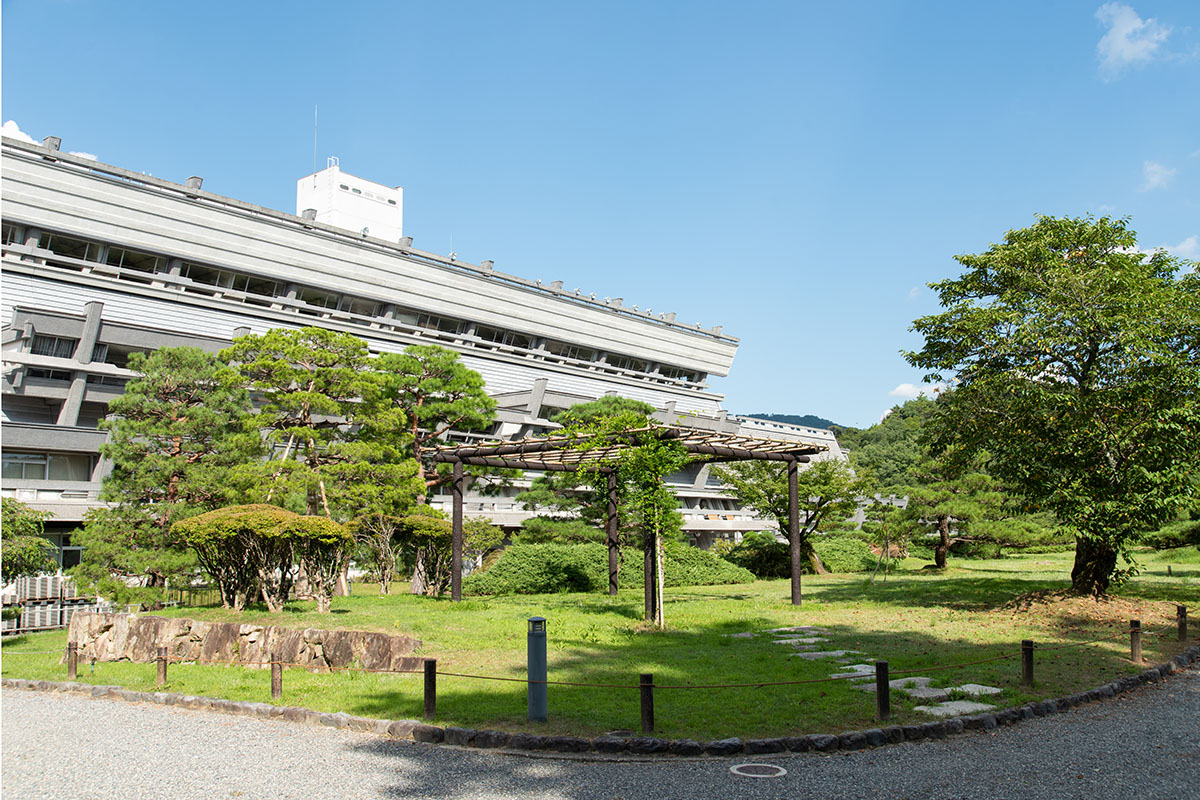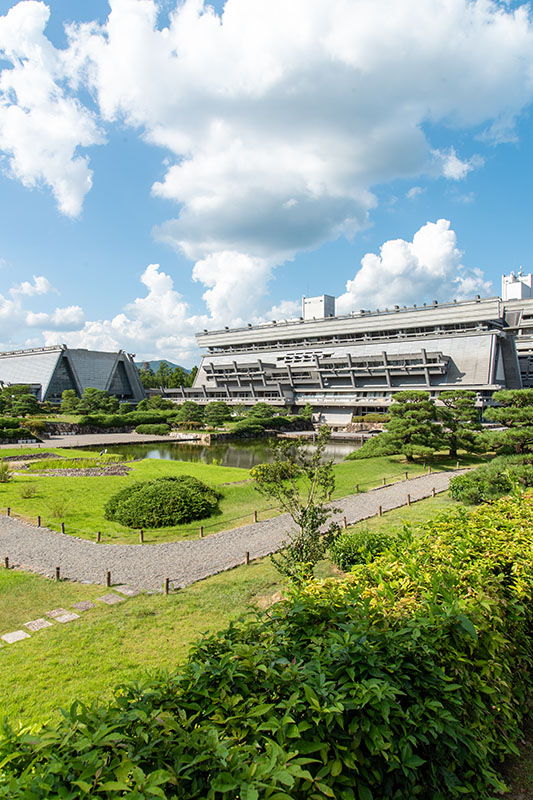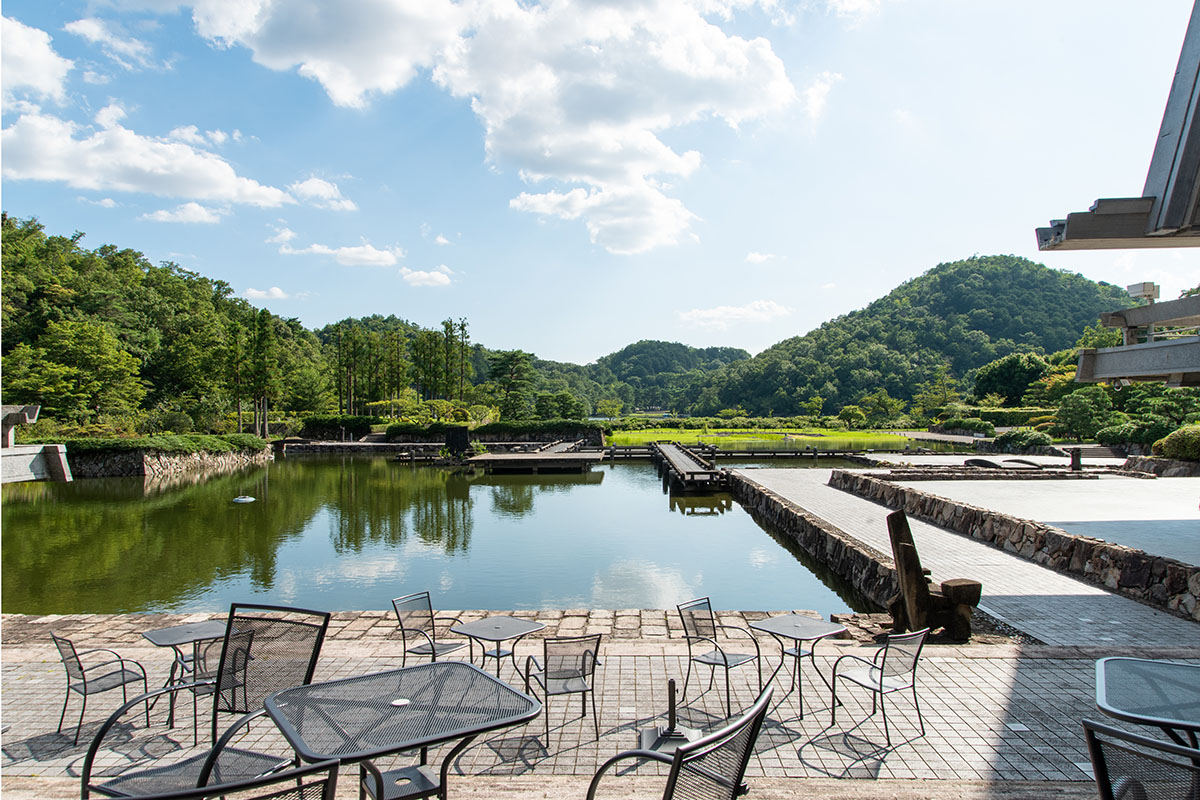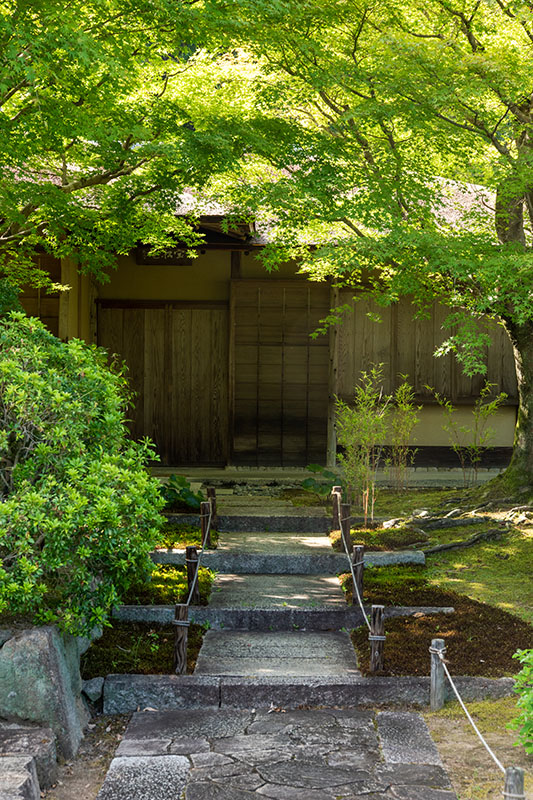 Kyoto International Conference Center (hereafter, ICC) was opened in May 1966 as Japan's first international conference center. On spacious grounds of approximately 156,000㎡, there is, in addition to the event hall and other conference and exhibition facilities, a Japanese garden of approximately 23,000㎡ on the southwest side of the main hall overlooking Takaragaike Pond. The functions necessary for holding a large-scale international conference are all found in the Takaragaike area and there have been over 17,000 conferences and events held here since its opening over fifty years ago.
The garden unfolding across the main hall's southwest side was designed by Sachio Otani (1924-2013) based upon the concept of "people gathering in nature to talk to one another" and as a strolling pond garden arranged so that Sachigaike Pond, which faces the large conference hall and reflects the mountains and trees surrounding Takaragaike Pond, is fused into a single whole with an eight planked "yatsuhashi" bridge. There is a striking contrast between the geometrically patterned pond, over which the straight lines of the eight planked bridge are combined, and the natural scenery of mountains soaring beyond Takaragaike Pond. Inside Sachigaike Pond, a stage has also been installed.
The garden has approximately 150 cherry blossoms planted and, with events held every spring where the garden is open to the public for free, it is also well known as a hidden away cherry blossom spot. Inside the garden, there is the Homatsu-an teahouse donated to ICC in 1967 by its first board director Konosuke Matsushita where tea ceremonies are held every year.
By basing ourselves upon Otani's design intentions for ICC's building and garden, Ueyakato Landscape has been involved in fostering the ICC garden since its creation and through its subsequent renovations.
Unfortunately, starting from around 2010, many deer have been raiding the ICC garden from the natural habitats still remaining in the surrounding area. As a result, there are many places where dead, damaged or declining trees and flowers are seen, particularly among plum blossoms and shrubs such as azaleas.
In response to this situation, since 2019, ICC has been constructing a fence to surround the garden's outer perimeter to prevent deer from raiding the garden. Under a four-year plan starting in 2020, maintenance construction will be done on the garden. Ueyakato Landscape has also been commissioned to undertake this construction. Following Otani's intentions in creating this garden, our company is cooperating in both its maintenance construction and daily management so that visitors can feel each of its four seasons.