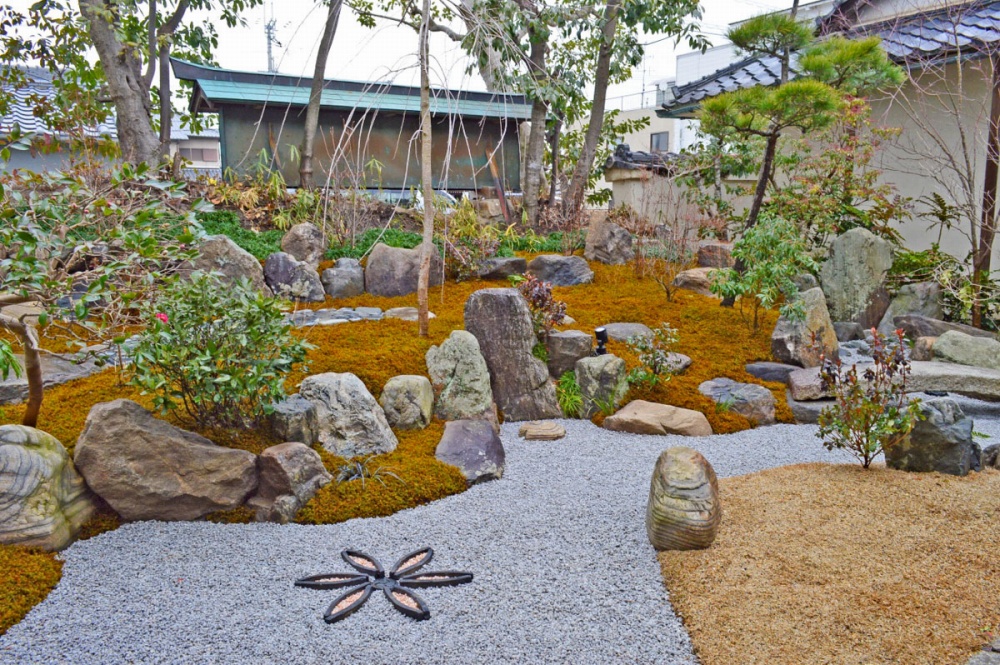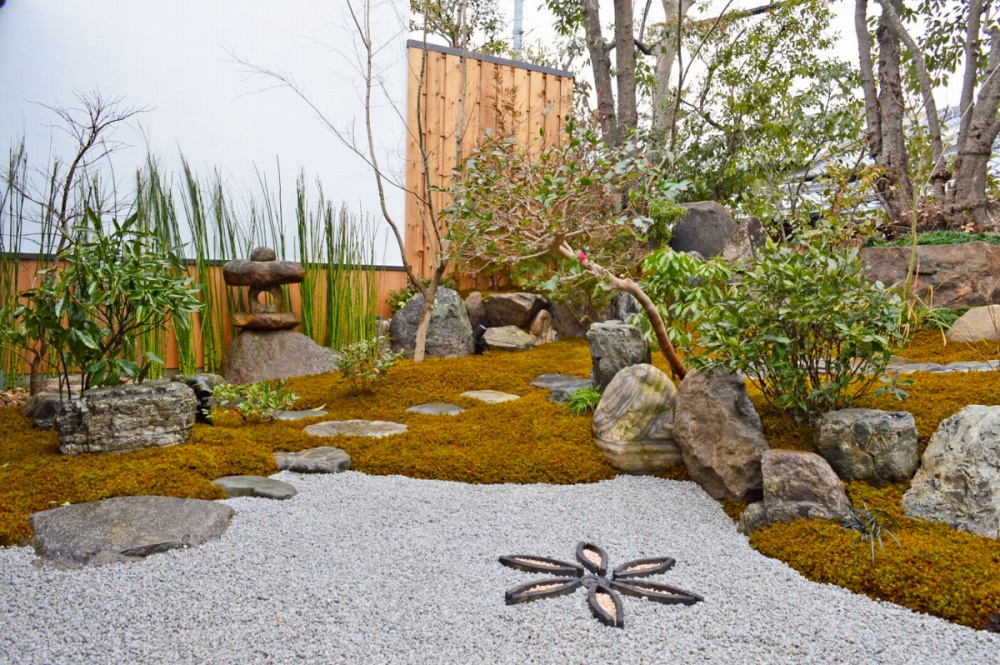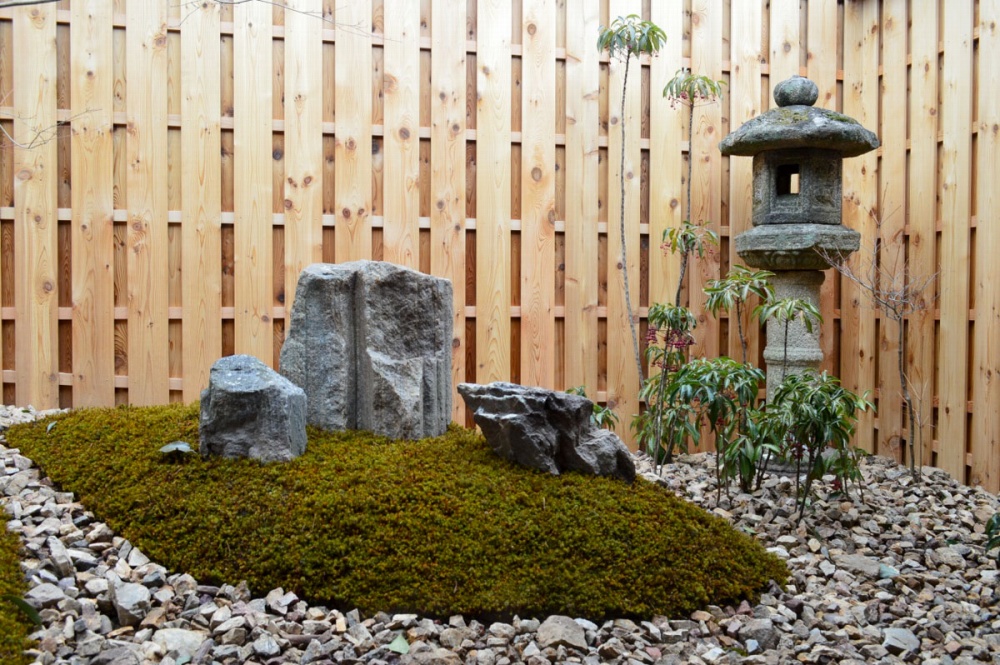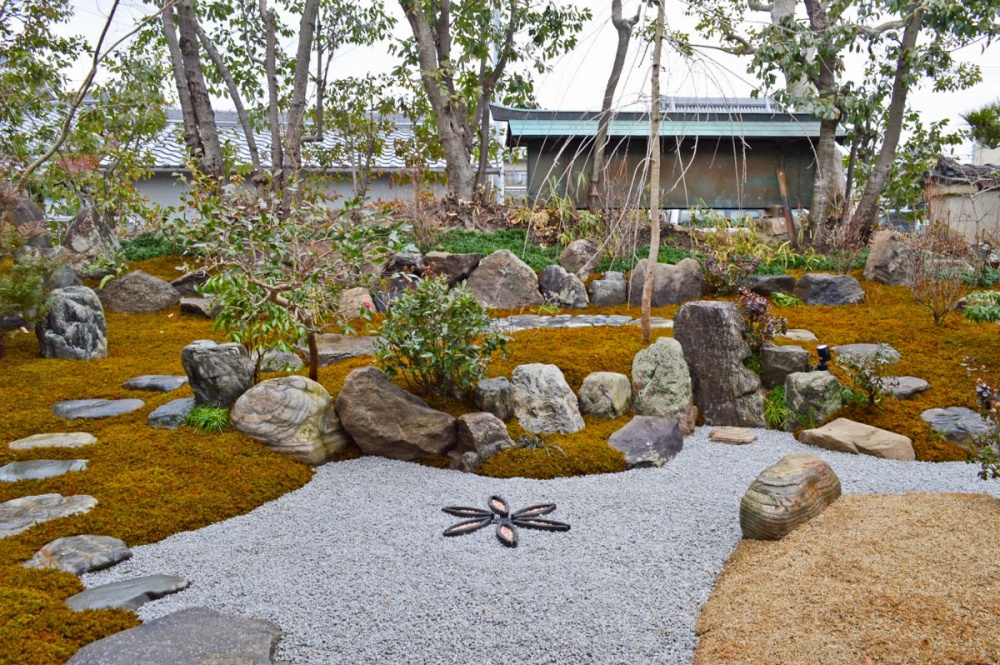 The Japanese garden at Ubusuna-no-sato TOMIMOTO was created as a garden befitting the birthplace of Japanese potter and Living National Treasure Tomimoto Kenkichi (1886-1963) by making effective use of stones and trees used in the original garden that existed here.
We created an authentic Japanese garden here in the belief that the fine precision of the patterns drawn on Tomimoto's works and his pottery skills share a common spirit with the worldview built into Japanese gardens and the skills of a gardener.
The elevation difference in the original garden has been used to arrange a dry waterfall stone arrangement on the garden's north side to express the image of water flowing down from it passing under the house and then flowing into the entire property. Traditional Japanese landscaping skills are used to express the stone pavement incorporated in the nobedan* path and the tile pavement using originally existing roof tiles as patterns based upon Tomimoto's flower motifs. The stepping stones, crouching basin arrangements, and stone lanterns each recycle objects used in the preexisting garden, resulting in a composition that allow's one to appreciate the garden's original atmosphere.
Even with respect to plants, pruning and transplanting has been performed so that the garden's existing plants are used in the most effective way possible. We planted a weeping cherry blossom in the center of the garden. By selecting a single-petal weeping cherry just like the large weeping cherry directly in front of the front entrance, we have given the space a feeling of continuity.
We also aimed for plants such as maples, white enkianthus, camellias, and hydrangeas that allow each of the four seasons to be enjoyed. This is a space where you can gaze out at the garden's trees and flowers while turning Tomimoto's natural motifs over in your mind.
*Nobedan is a traditional style of Japanese pavement in which small stones are paved together to form a larger rectangular stone path.