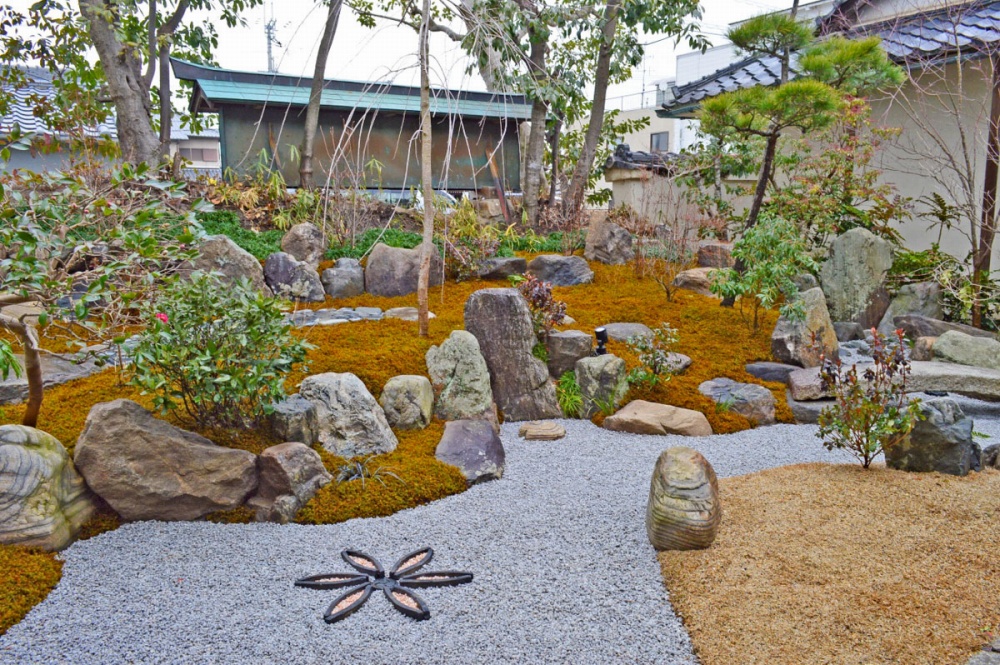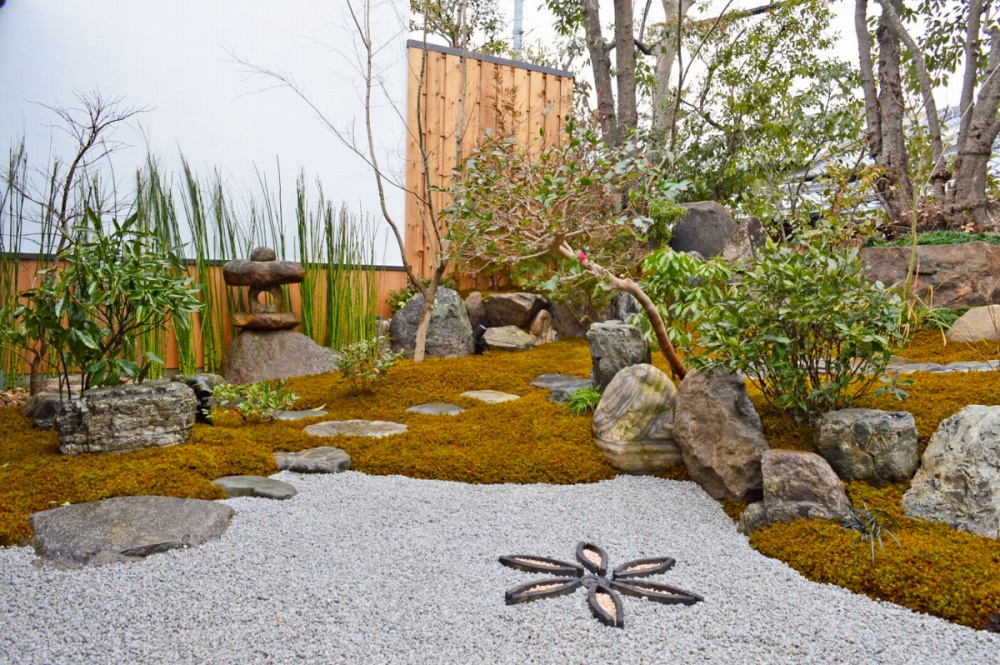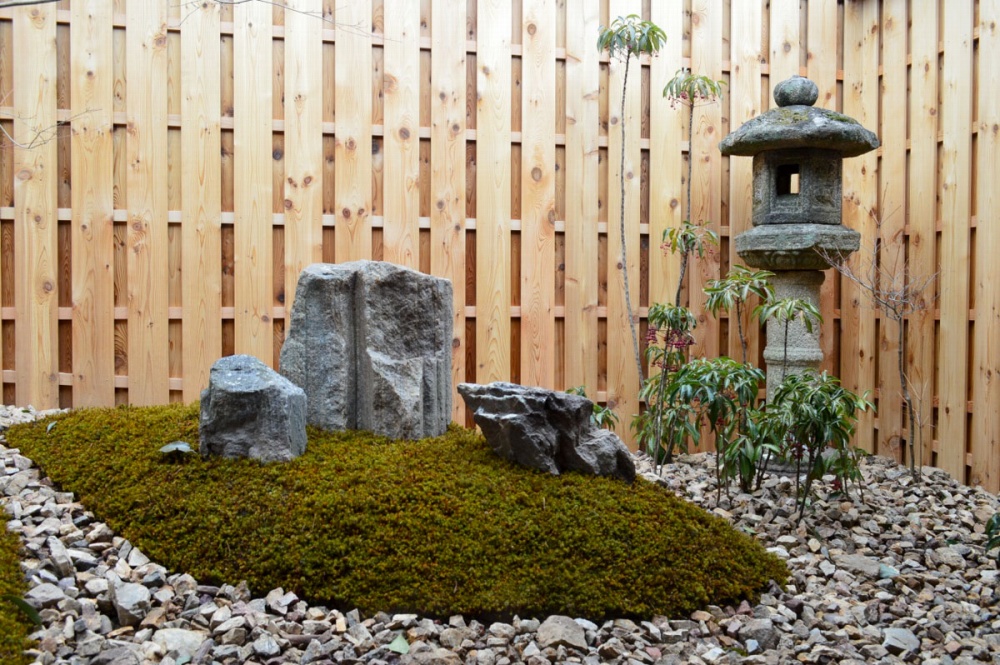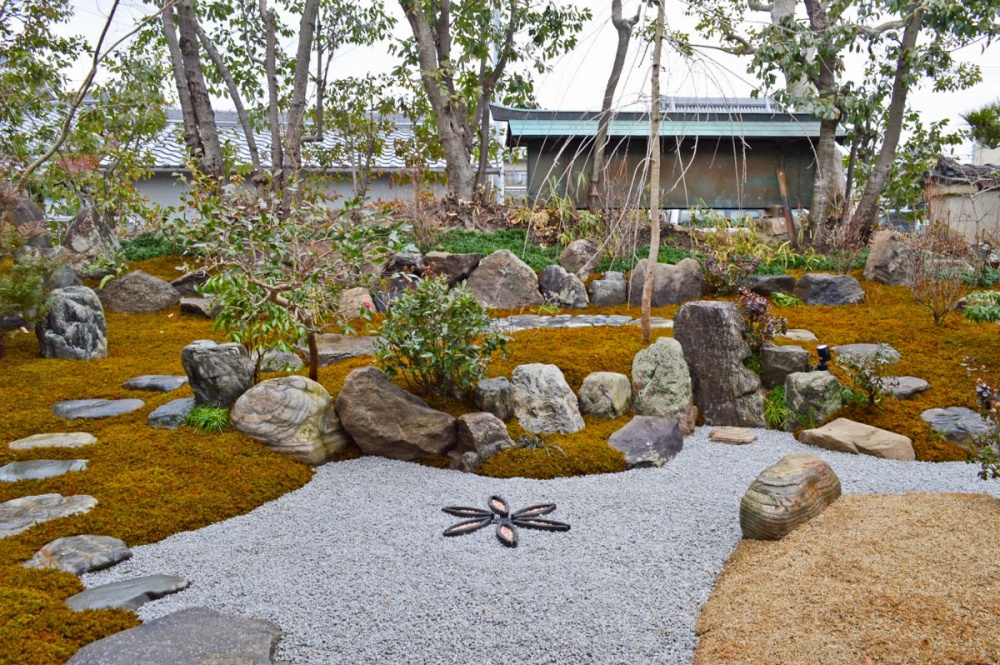 Ueyakato Landscape created the Japanese garden at Ubusuna-no-sato TOMIMOTO to be a garden worthy of renowned Japanese potter and Living National Treasure Tomimoto Kenkichi (1886-1963). With this aim in mind, we made the greatest possible use of stones and trees used in the original garden that existed here.
Inspired by our belief that there is a connection between the fine precision in Tomimoto's patterns and his pottery skills and the worldview embodied by Japanese gardens and the skills of traditional Japanese gardeners, we created an authentic Japanese garden here.
On the north side, we used the original garden's elevation difference to create a dry waterfall stone arrangement that expresses water flowing underneath the house before spreading over the entire property. Drawing upon their traditional Japanese landscaping skills, our gardeners even incorporated Tomimoto's flower motifs into the garden's nobedan pavement and a tile arrangement that we created by using the original property's roof tiles.
The stepping stones, crouching basin arrangements, and stone lanterns each recycle objects used in the preexisting garden, resulting in a composition that lets one appreciate the garden's original atmosphere. Even the plants have been pruned and transplanted so that the garden's originally existing greenery is used in the most effective way possible. At the garden's center, we planted a weeping cherry blossom. Not only did we give the space a sense of continuity by picking out a single-petal weeping cherry just like the large weeping cherry directly in front of the front entrance, but we also chose plants such as maples, white enkianthus, camellias, and hydrangeas so that each of the four seasons can be enjoyed.
One of the ways that a Japanese garden can amplify a location's intrinsic value is by recycling materials that convey its history. By inviting visitors to turn Tomimoto's natural motifs over in their mind while gazing at the garden's flowers and trees, Ubusuna-no-sato TOMIMOTO exemplifies the rich potential of Japanese gardens to remind us of our cultural heritage.