Fostering Gardens
-A Statement of Ueyakato Landscape's Worldview and Mission-
The Sakuteiki (Records of Garden Making), Japan's eleventh-century garden instruction manual, teaches us that, "Gardens must be made be made by setting one's thoughts firmly upon the natural landscape." Perhaps no other statement could better capture Ueyakato Landscape's philosophy of garden management and creation. Our aim is to take the time-honored techniques of the Japanese gardening tradition that each generation of gardeners has developed and passed down and integrate them with our company's thoroughly researched methods of modern garden construction. This we believe is a vitally important means of drawing out the richest scenic potential in social environments throughout the world. By devoting ourselves to nurturing landscape scenery over a span of several centuries, we are rising to the challenge of integrating nature's timeless beauty into the constant change that surrounds humanity today.
This is the commitment of Ueyakato Landscape, a company of artisan specialists united by a common goal of crafting superior landscape scenery in the Japanese gardening discipline. Our gardeners pride themselves on having both the technical versatility and fluency in modern construction methods needed to adapt the excellence of the Japanese garden form to any environment, in ways that creatively harmonize modern safety requirements with contemporary society's ever-widening scope of taste and preferences.
Permanence and Fashionability: A Creative Tradition
The seventeenth-century poet Matsuo Basho once summed up the essence of Japanese aesthetics in a single poignant phrase: "Permanence and Fashionability." These two words express the fundamental philosophy underlying Japanese garden tradition with equal eloquence. "Permanence" refers to that in the tradition which must never be changed. It is the techniques passed down from one generation to the next that keep the possibility of authentic Japanese garden creation alive today; it is the incomparable craftsmanship and sensitivity that each gardener dedicates themselves to earning over many assiduous years or apprenticeship; above all, it is the profound reverence for nature that has always characterized the Japanese garden tradition.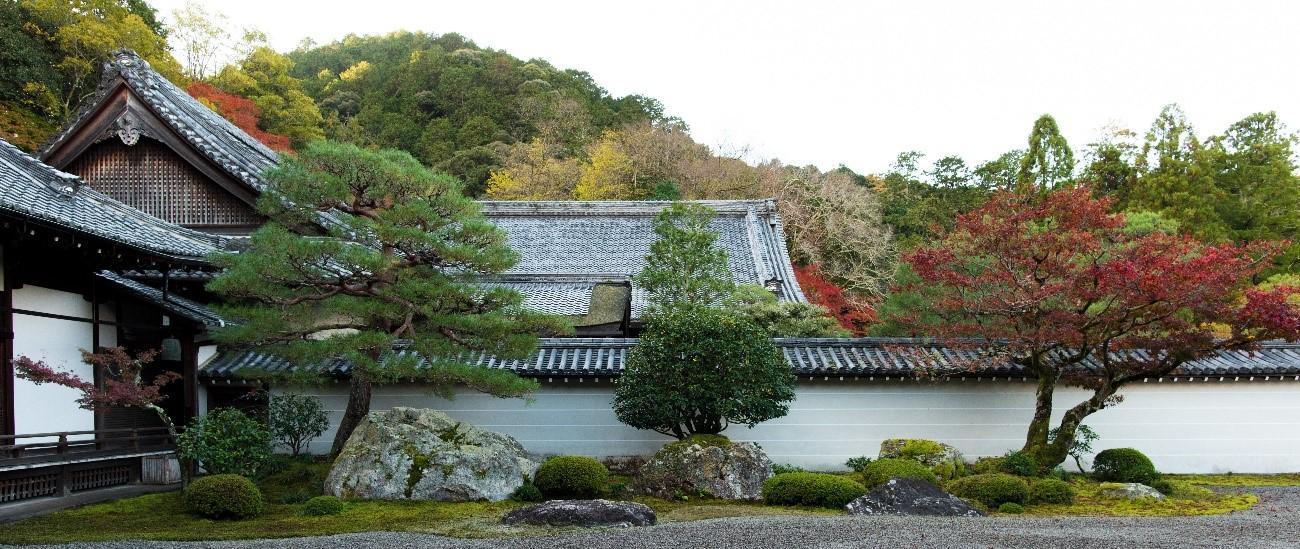 Permanence: Ueyakato Landscape has served Nanzen-ji Temple for over 170 years. Today it is still one of the Kyoto temples whose landscape scenery we support as their exclusive gardening company. This is an indispensable source of our Japanese gardening skills and know-how.
"Fashionability," by contrast, is that which must be changed. Traditions are not unchanging repositories of past culture; they are living records of a process of creative adaptation that still continues today. They are the wellsprings of the innovative designs that bring meaning to our contemporary social surroundings. Hence, responding to the demands of "fashionability" in each age is an equally vital component to preserving a viable Japanese garden tradition.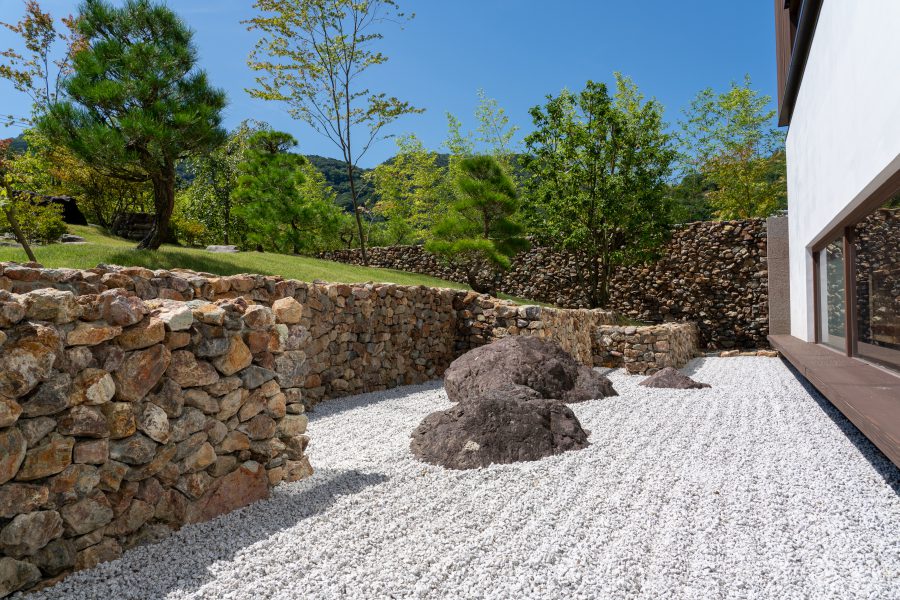 "Fashionability": At a private residence in Kyoto, our gardeners designed this majestic retaining wall from mountain stones. Not only does it unify with the surrounding scenery, but it also provides an awe-inspiring backdrop for the dry landscape garden visible from inside the building's tearoom.
The Practice of "Fostering": Ueyakato Landscape's Worldview in Action
What, then, does it take to consistently harmonize "permanence" with "fashionability" in the actual practice of Japanese garden landscaping? We believe the answer lies in what we like to call the practice of "fostering" the garden. By "fostering," we do not mean garden maintenance, the simple act of maintaining the garden in its original form. Nor do we even mean merely nurturing the garden, if this is taken to mean the process of directing its growth toward a final state of completion. What we do mean by "fostering" is the continuous and never-ending process of drawing out a garden's inner potential to the fullest possible degree through garden care that is thoroughly informed by solid historical and garden science research. This allows us to identify the garden's unique value with accuracy and precision and preserve it in ways that also accommodate present-day reality. Thus "fostering" means consistently adding value to the garden, yet in a way that avoids becoming extrinsic, by magnifying the intrinsic value that only that garden has.
For example, at Kyoto's Murin-an, a modern Japanese garden masterpiece and Japanese cultural property operated and managed by Ueyakato Landscape, we used historical photographs to restore the garden's essential borrowed scenery of the Higashiyama mountains in a way that accounted for the garden's skyline today. By accounting for current street features such as residences, telephone poles, and street lights, we successfully identified the lowest possible height border trees could be pruned back to without injuring the garden's naturalist landscape. The work took six years of patient pruning to avoid disrupting the trees' natural form, but based on this plan, our gardeners successfully restored the garden's organic connection to its borrowed mountain landscape. Performing restoration work at this scale while also coordinating closely with Japan's Agency for Cultural Affairs would be unthinkable without an unshakably solid foundation of research to back it up.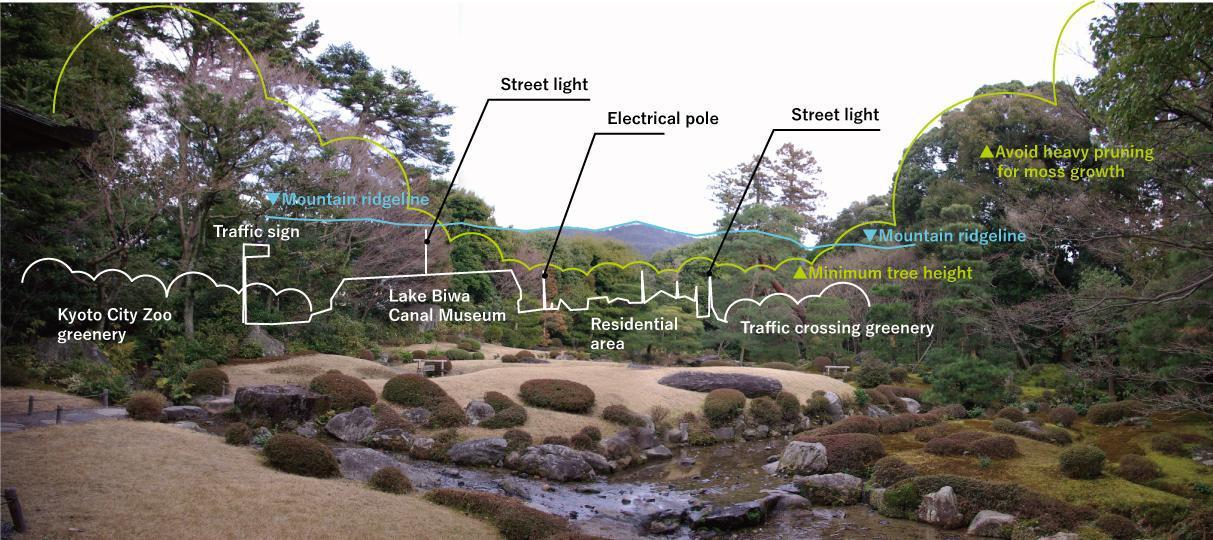 Murin-an, 2007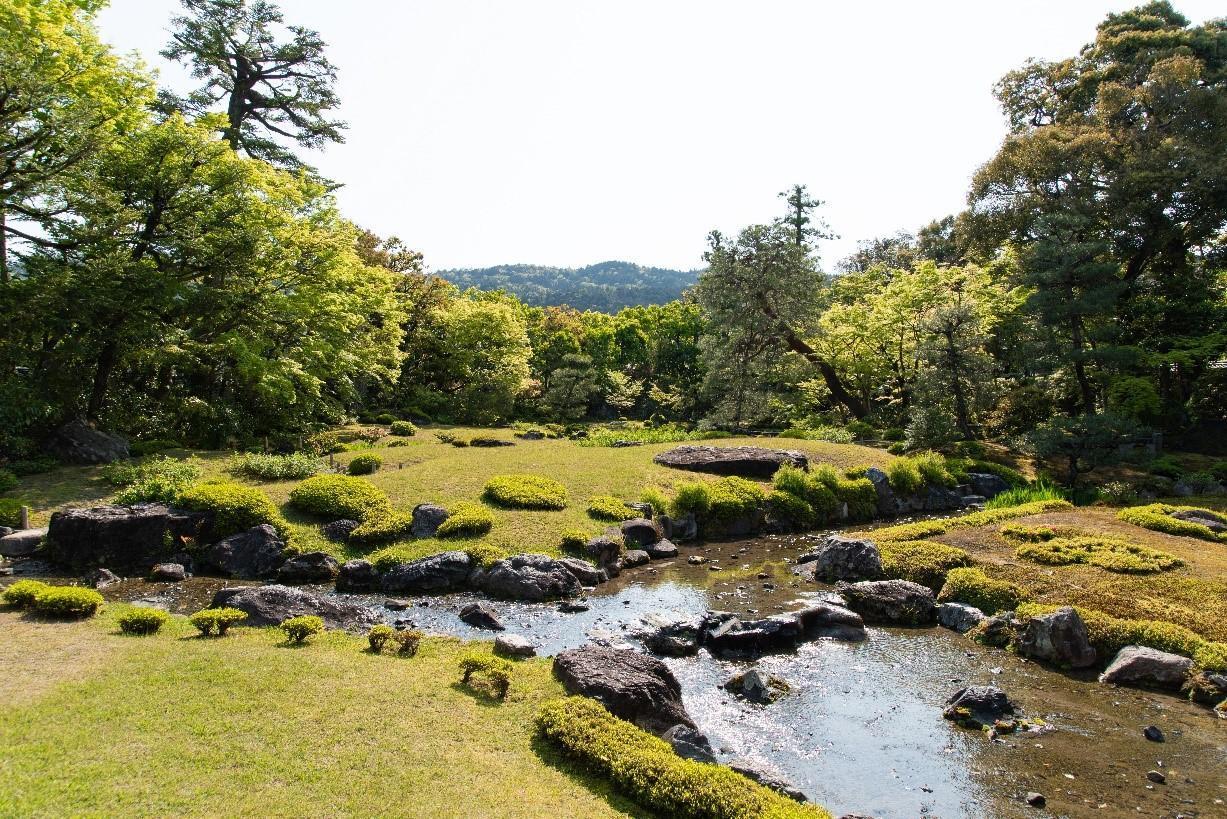 Murin-an today Based on a detailed survey of Murin-an garden's skyline, Ueyakato Landscape's gardeners restored its borrowed mountain landscape, its most signature characteristic.
"Fostering" as Communication: The Social Mission of Ueyakato Landscape
This "fostering" acumen is critically important when it comes to the care we provide to the many Japanese gardens that are government-protected cultural properties. Yet it's also equally essential to the gardens we create, whose growth and development we can track and plan through research that accurately anticipates what the garden will look like several years after creation. Not only does this allow our gardeners to foster the garden according to a comprehensive plan, it also facilitates their ability to communicate with clients by providing regular diagnostic reports apprising them of their garden's progress, so that they keep in touch with their gardens no matter where they are. Ueyakato Landscape believes that clear communication with clients is the very heart of ideal garden fostering.
Our company's research efforts, therefore, are dedicated to adding further value to our gardeners' expertise. Fostering a garden in this sense always begins with our gardeners. They are the ones who hone their skills and sensitivities over many years of work and training in the Japanese gardening tradition. It is here that the communication process of garden fostering begins, with the transmission of traditional Japanese techniques that occurs between gardeners at the worksite. Through our "Brothers" and "Sisters" programs, our gardeners are assigned to pairs that facilitate a smooth and solid acquisition of the traditional skills they will need to foster their gardens.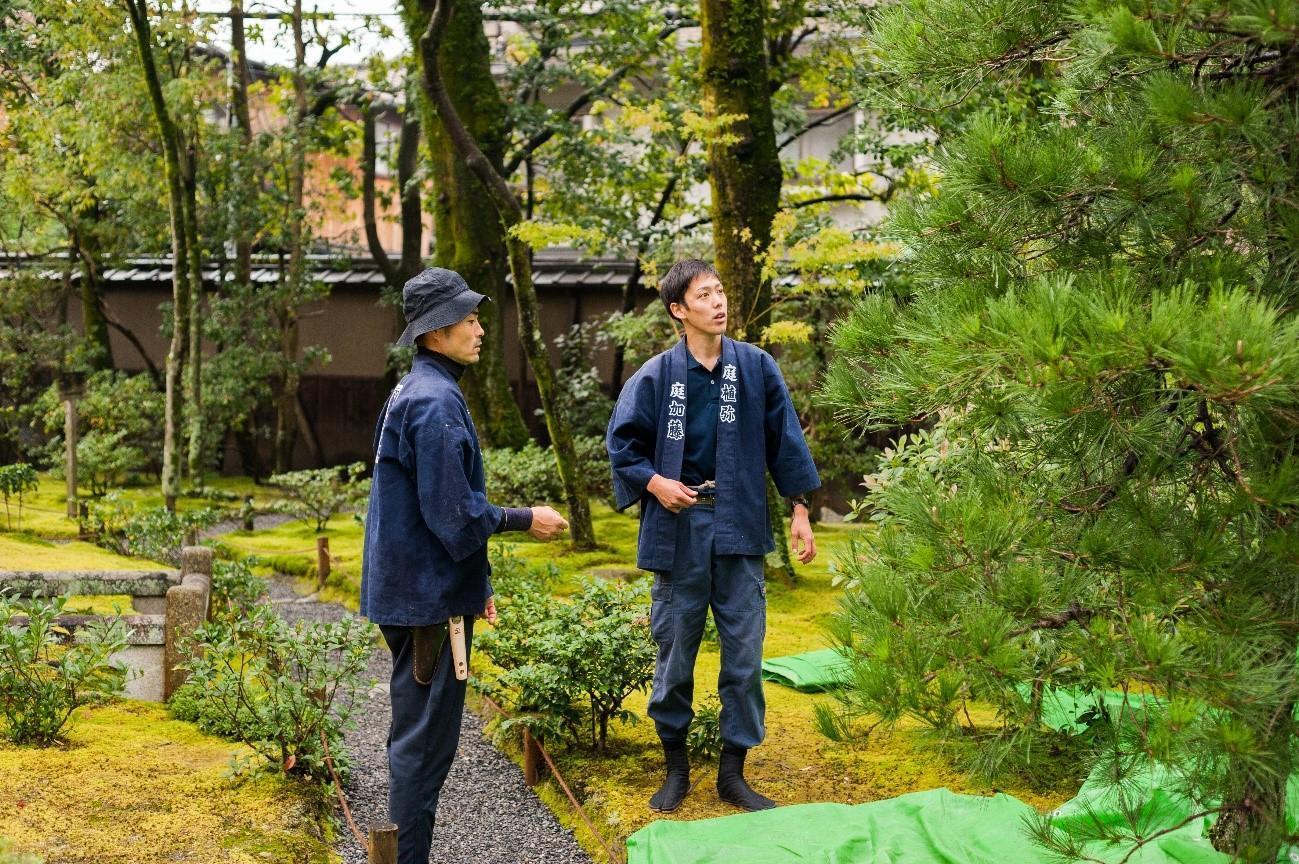 "Brothers in gardening": Ueyakato Landscape's "Brothers" and "Sisters" training pairs facilitate transmission of gardening skills at the worksite.
That's how our gardeners are able to understand why the gardens they manage were originally created and how they have been used over time. It's what we call "reading for the sensitivity of the times." In fact, many of our gardeners are themselves what you might call gardener-scholars, specialists in the gardens whose management they are responsible for. This not only gives them a deeper insight into how to foster a garden's inner potential, but also enables them to communicate with specialists from Japan's Agency for Cultural Affairs when caring for the many cultural property gardens that Ueyakato Landscape is privileged to manage.
Knowing gardens, then, is essential to fostering them. And because we do know our gardens, Ueyakato Landscape is also uniquely poised to utilize them as exceptional points of intersection that bring together different strands of Japanese culture. Not only do we make proposals for how gardens that nationally designated cultural properties can be used by the public, we also offer wide-ranging advice to clients about how to enjoy Japanese culture in their gardens. After all, Japanese gardens aren't just for looking at; they're for feeling with our whole bodies the changes occurring in each of the four seasons. Ultimately, it is by putting gardens to use that we foster their inner potential to give us enjoyment.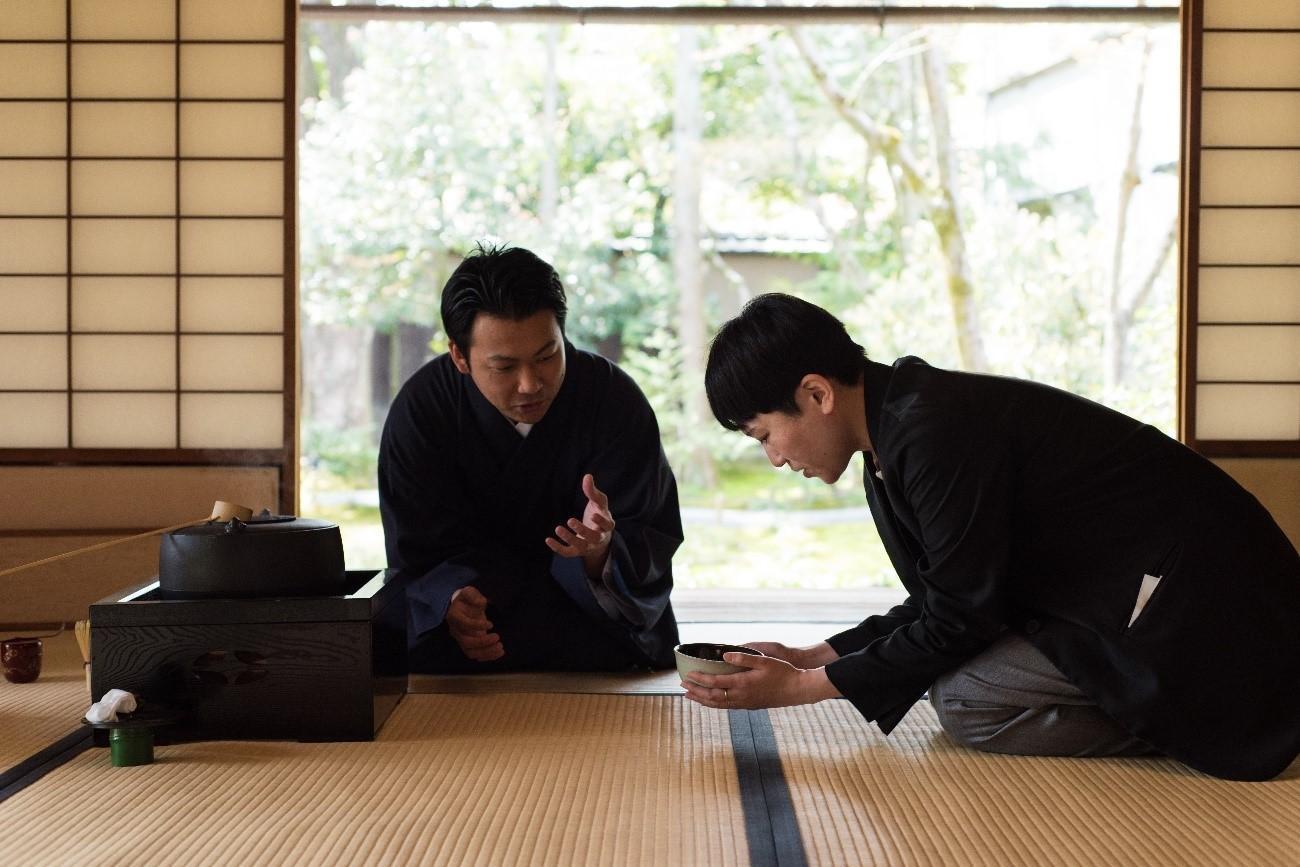 Offering tea ceremony classes at Murin-an is just one of the many ways that we involve the public in actively "fostering" the precious value Japanese gardens continue to have today.
It is precisely this wealth of "fostering" experience and know-how that we bring to each of the gardens that we are privileged to create or manage. With our time-tested abilities and knowledge of the Japanese garden tradition as our aids, our mission remains to communicate to the world the unique value this tradition still retains today.