Chishaku-in Temple's garden is said to have been created in 1674 and it was praised from that time as the best garden in Kyoto's Higashiyama area. It was designated a national Place of Scenic Beauty in 1945.

Ueyakato Landscape's restoration work on Chishaku-in Temple's garden is based on the reasons given for designating it a national Place of Scenic Beauty. To restore the garden's original scenery, one critical reference source comes to us from a drawing in the Miyako rinsen meisho-zue (Pictorial Guide to Gardens in Kyoto), a garden guidebook published in 1799.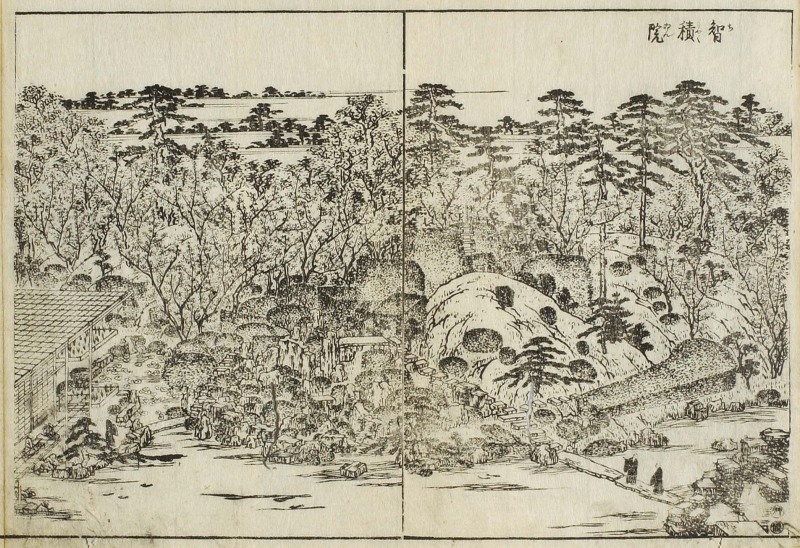 Drawing from Miyako rinsen meisho-zue (Pictorial Guide to Gardens in Kyoto), 1799
We are currently conducting two types of restoration work at Chishaku-in Temple.
1.) Stone shore edging repair
2.) Restorative pruning
Stone shore edging repair
Since 2009, Ueyakato Landscape has continuously performed repair work on stones that have fallen off the pond's stone shore edging. This repair also helps prevent further deterioration from occurring.
Japan's Law for the Protection of Cultural Properties states that permission from an officer of the Agency for Cultural Affairs is required to alter a Place of Scenic Beauty's current condition or perform any work impacting its preservation. This means that restoring everything to its original state, even if only one stone has been moved, is a fundamental rule. Preliminary surveys must be conducted to identify issues, such as where stones have been mis-stacked, so appropriate restoration methods can be determined for each area. Surveys help us reveal elements such as the artificial mound's structure and the function of piles discovered in the pond's stone shore edging. Thus, they provide a significant foundation upon which to understand the original vision behind the garden's design. Checking survey results and accurate recording are therefore of critical importance.
Restoring the Stone Shore Edging
Field experts and engineers specializing in cultural property protection study the site beforehand to uncover the best restoration methods.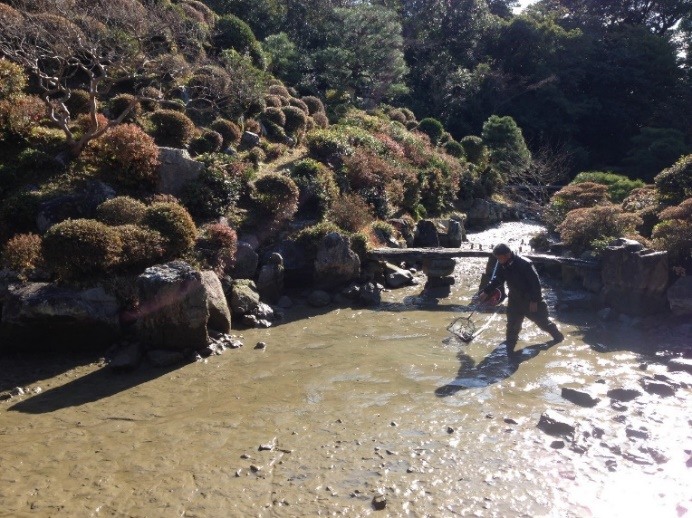 Before restoration work on the stone shore edging begins, first pond water is drained.
Positions of stones and other objects were carefully recorded to allow them to be restored to their original position.
Stone shore edging (before)
Stone shore edging (after)
All stones are numbered and photographed.
Stone positions, site conditions, and work processes are all recorded.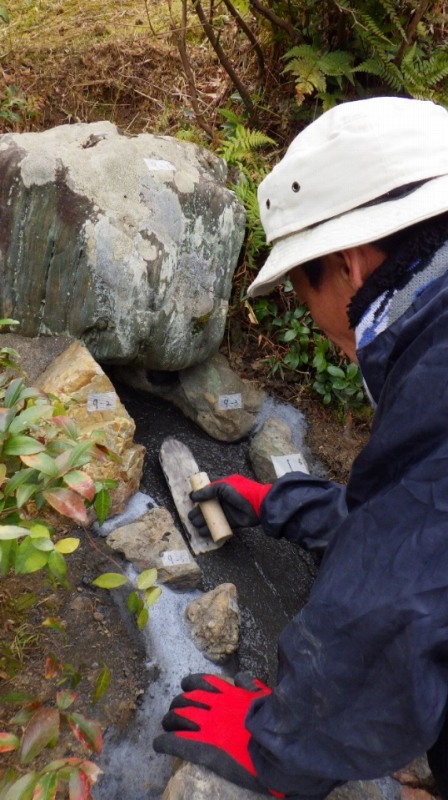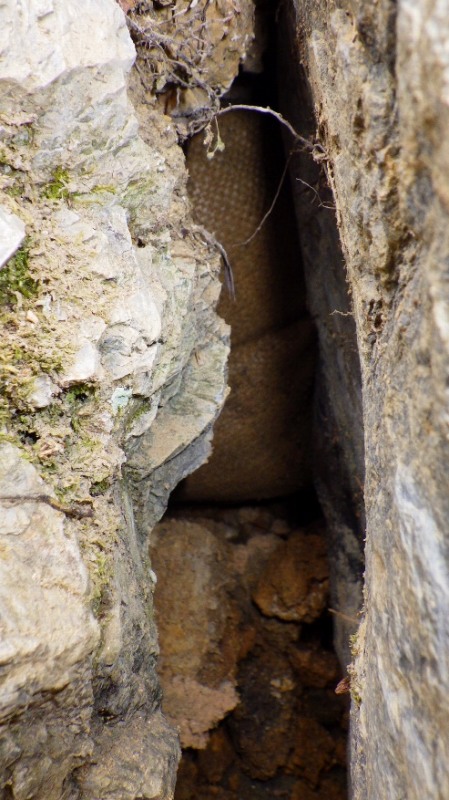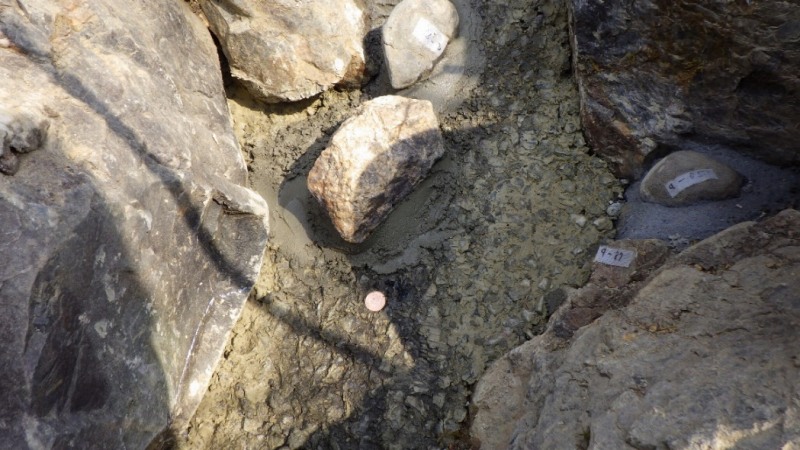 A coin issued that year is buried underneath each stone. (A unique characteristic of restoration work in Japan)
This provides a critical reference for future restoration efforts.
After completion
Restorative pruning
Restorative pruning is being used to revive the garden's original scenery by cutting back overgrown trees on the mountain behind it. These trees negatively affected the garden by overpowering and overshadowing the garden's trees. For these overgrown trees, we referred to old records from Japan's Edo period (1603-1868) and old photographs from the Meiji period (1868-1912) as indicators of how to use pruning and clipping to restore the garden to its original form.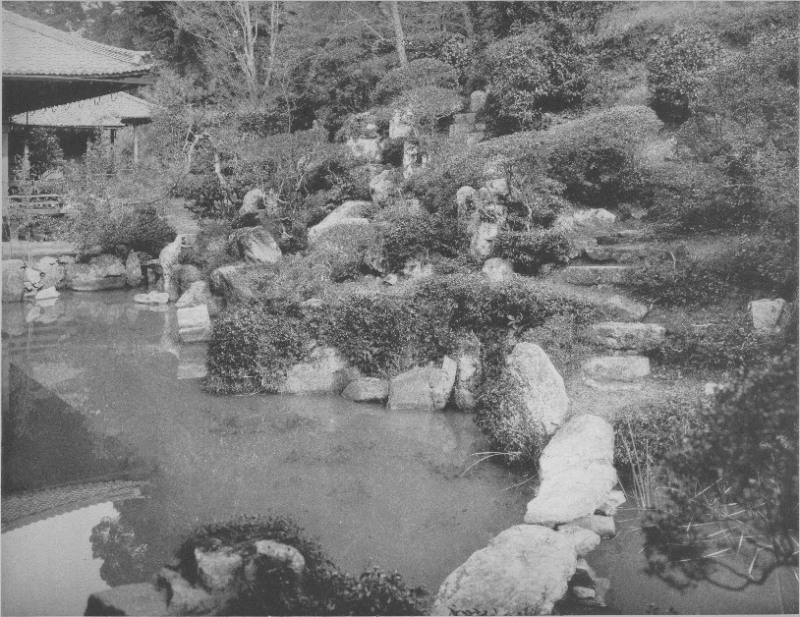 Karaku rinsen-cho (Pictorial Guide to Gardens in the Flower Capital), 1909
Giant chinkapin
The overgrown chinkapin tree on the mountain behind the garden was overshadowing the garden and negatively impacting its flora. The Miyako rinsen meisho-zue, the 1799 text that is the template for this restoration, shows no large tree in the background. On this basis, the tree was determined to be inessential to the garden's restoration and it was decided to cut it down.
Before
After
Large trees must either be cut down to their basic form and regrown or left with that basic form in place. When cutting down a large tree, first a scaffolding is set up. To ensure safety, the tree is not cut down from the root, but rather by gradually working downward from the upper branch tips.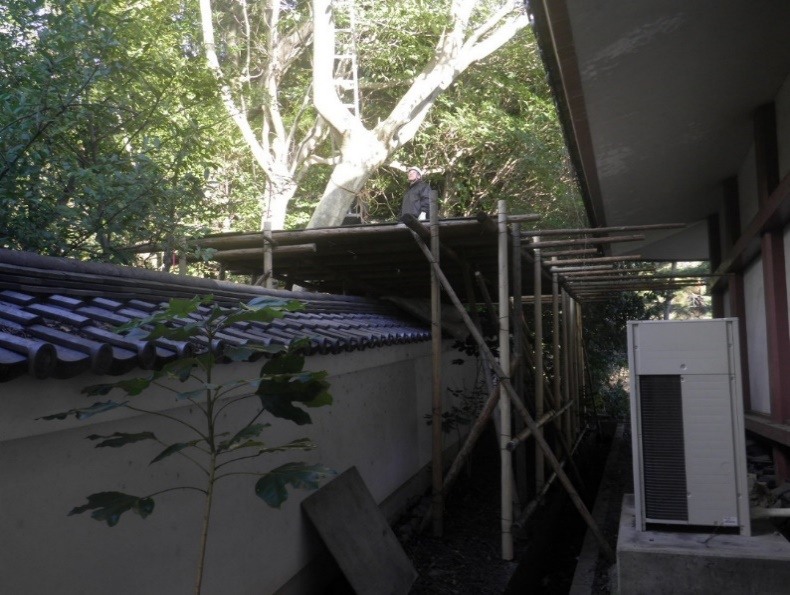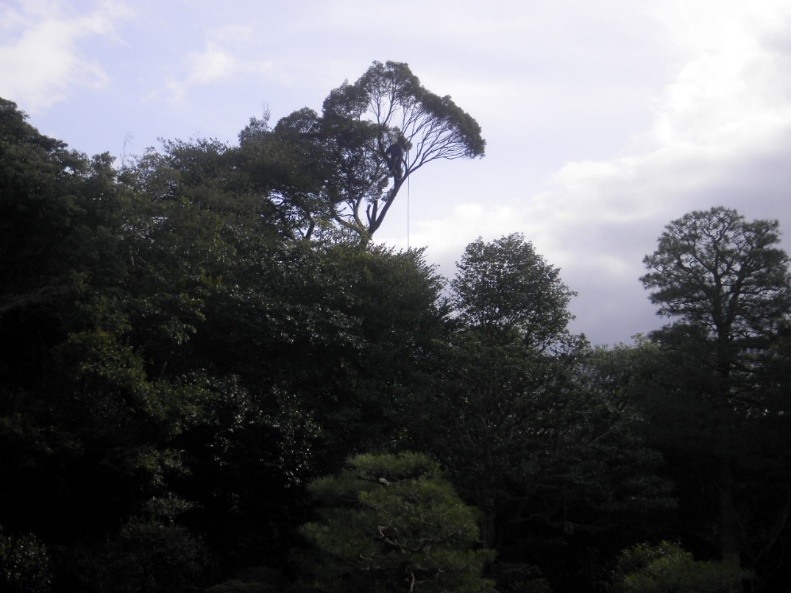 The unnecessary tree is cut down and trees that are too visible are trimmed back smaller in size. Large machinery cannot be brought onto the site, so tree parts must be cut small enough for human beings to take down by hand and remove from the site.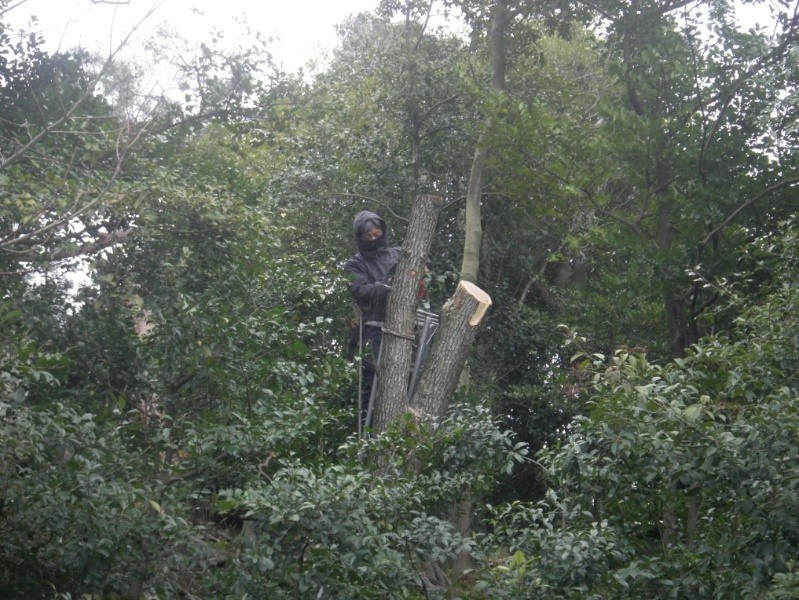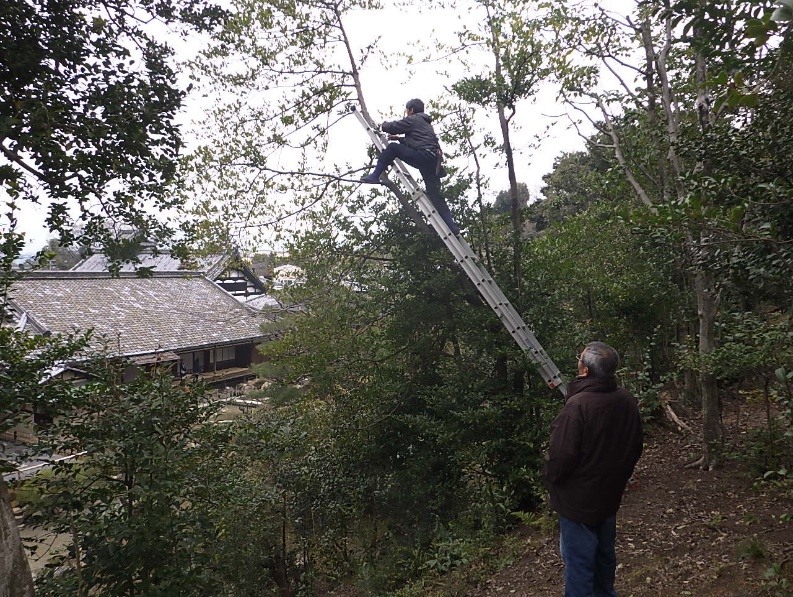 Azalea Hedge Trimming
An overgrown azalea hedge that has grown quite tall is pruned in stages. Its height and shape are adjusted and new trees are planted while preserving an overall feeling of balance.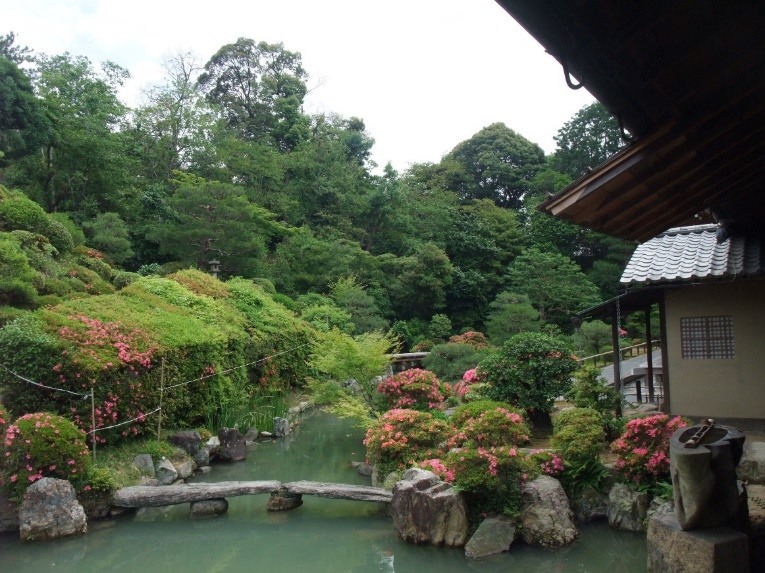 Before pruning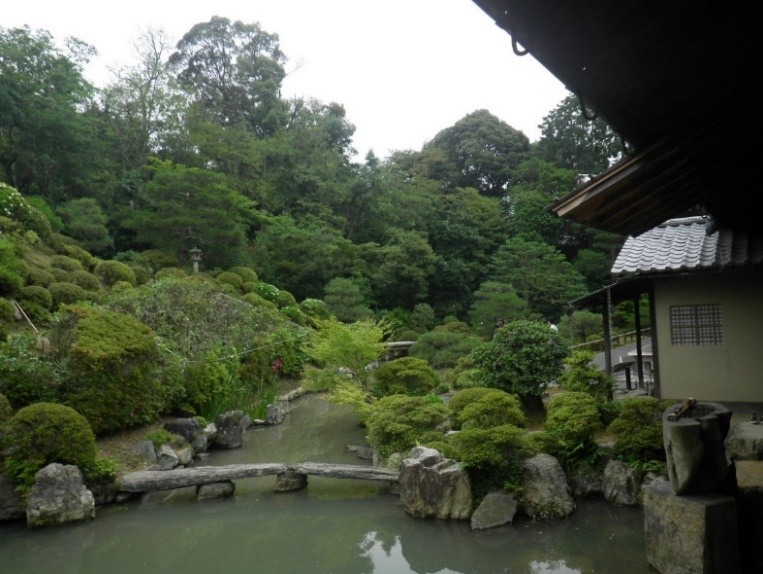 After pruning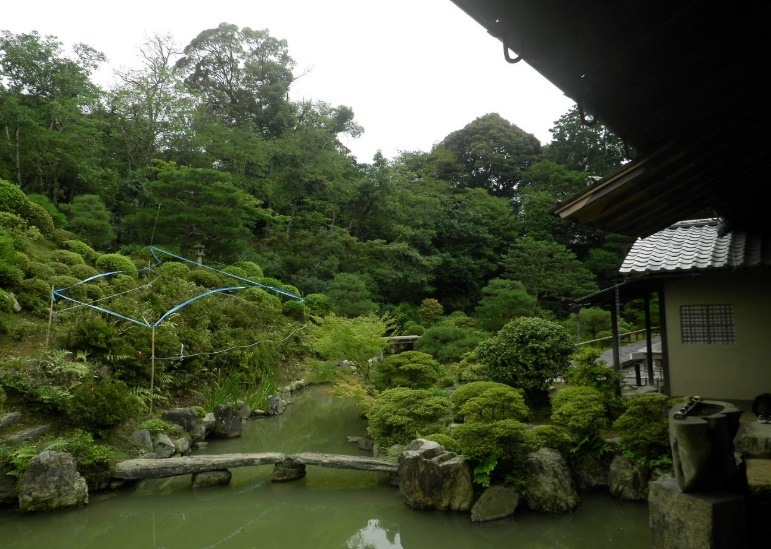 The hedge's shape is adjusted after it grows back.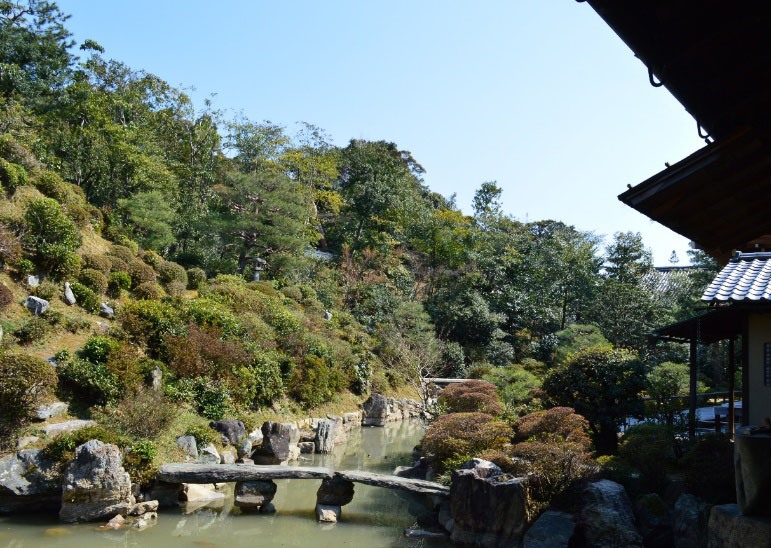 The hedge blends into its surroundings
Restoration work for gardens that are cultural properties is thus conducted by considering "what the garden is suppose to look like" and then applying the most up-to-date techniques and knowledge to restore it to the greatest degree possible. In this process, it is the gardener's job to decipher the garden's current condition, preserve indecipherable areas in the state they have been passed down in, and add knowledge and experience that can be passed on to future generations.
(This article describes Ueyakato Landscape's restoration efforts for Chishaku-in Temple's garden as of 2017)