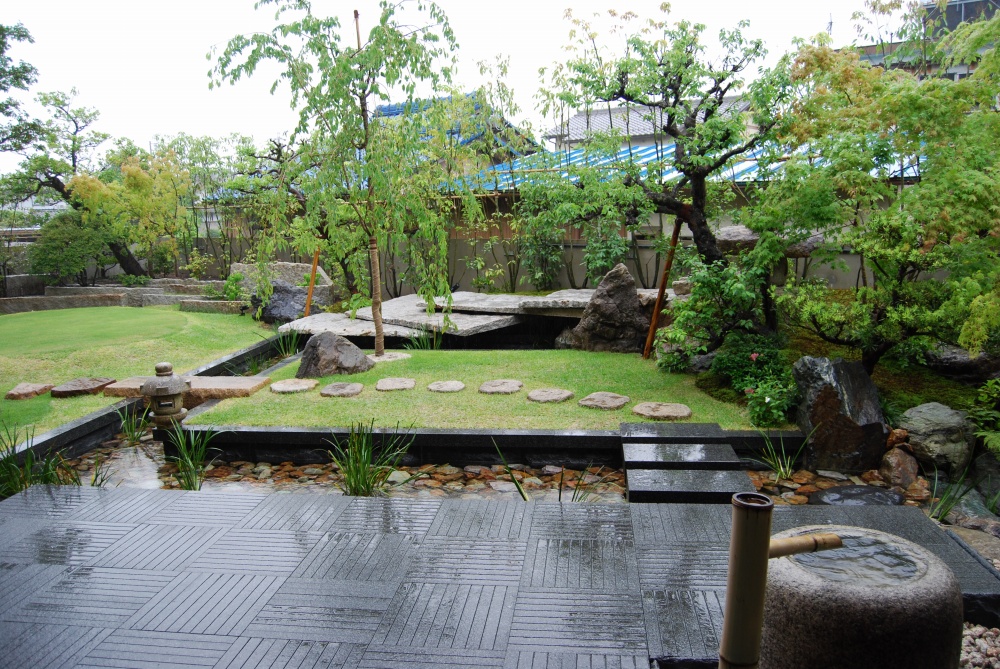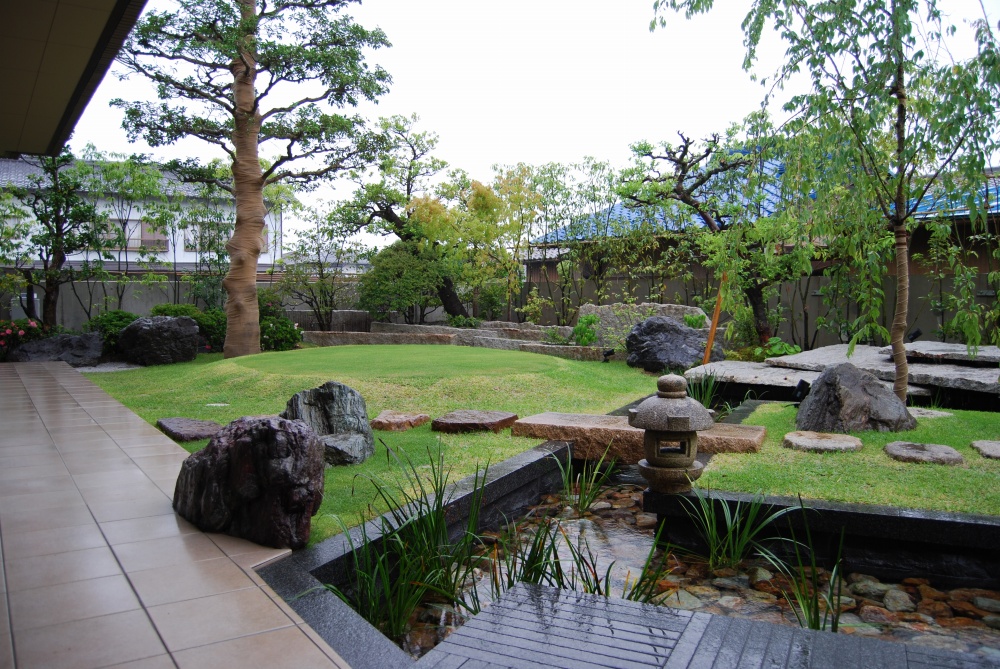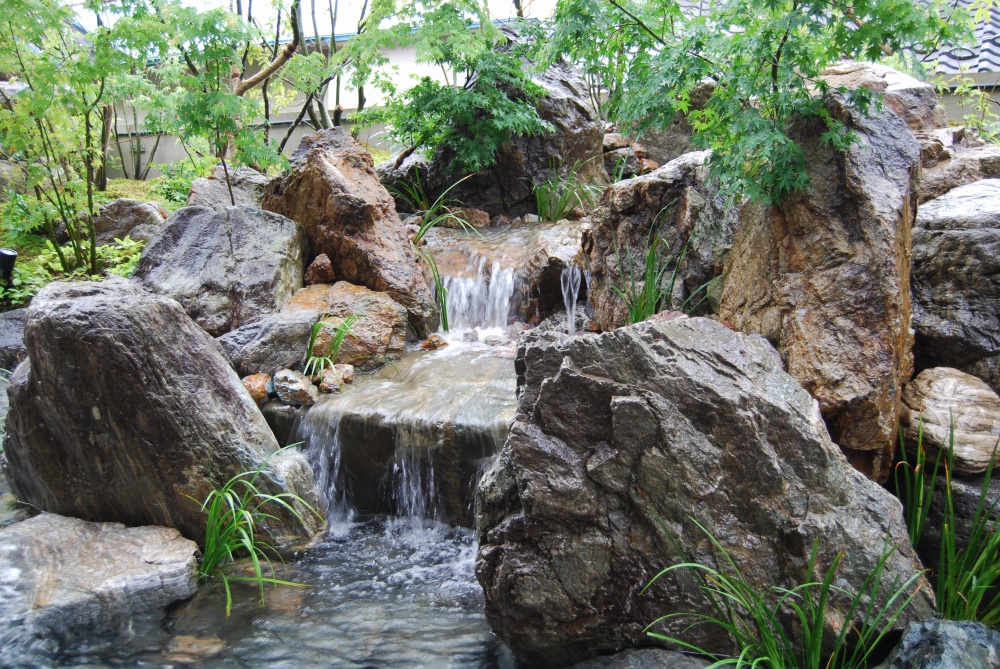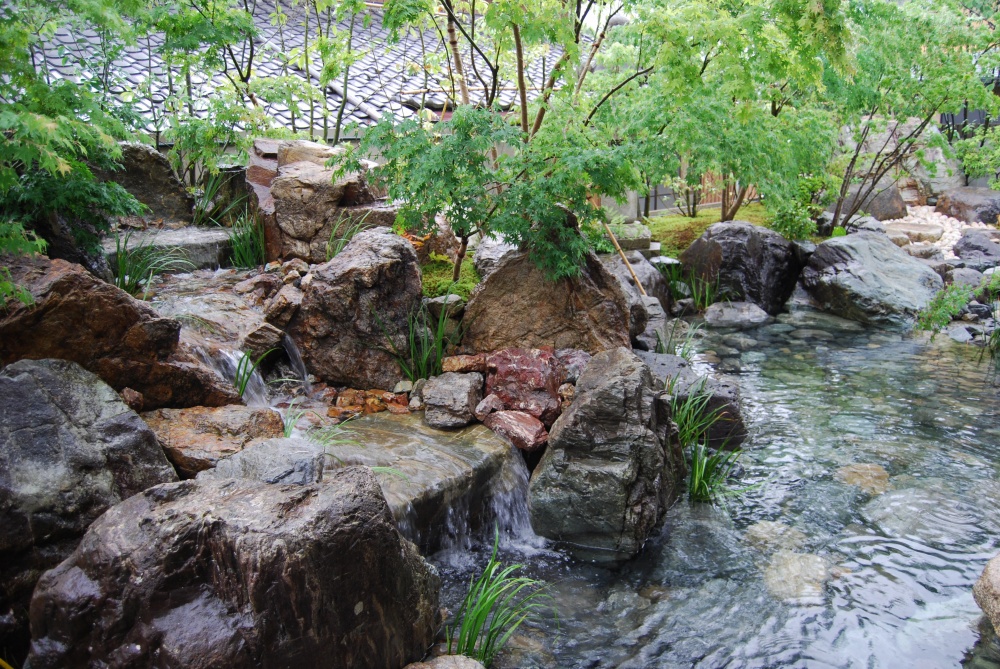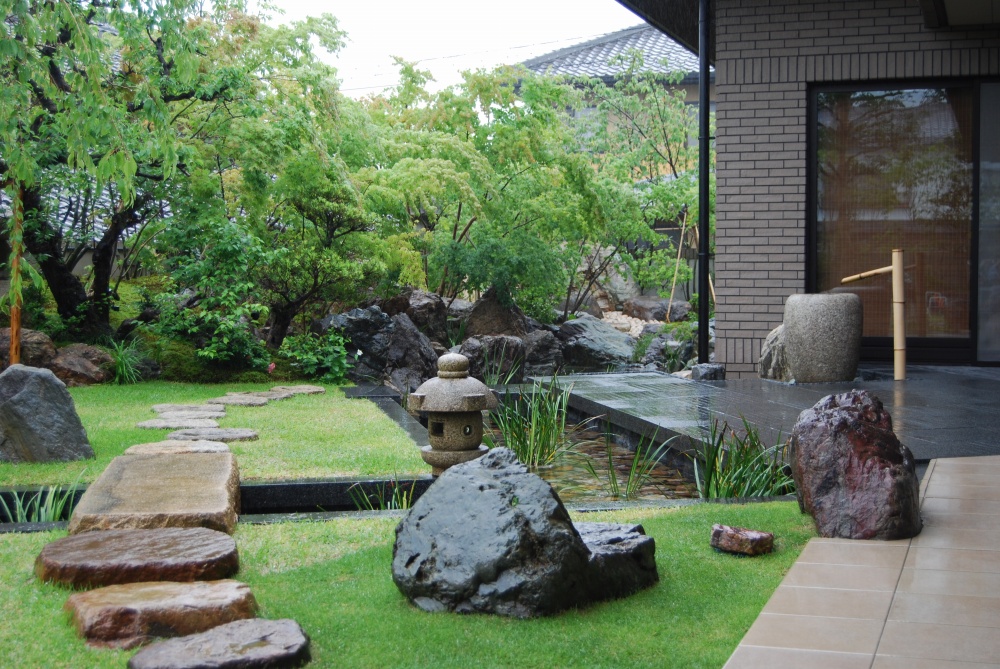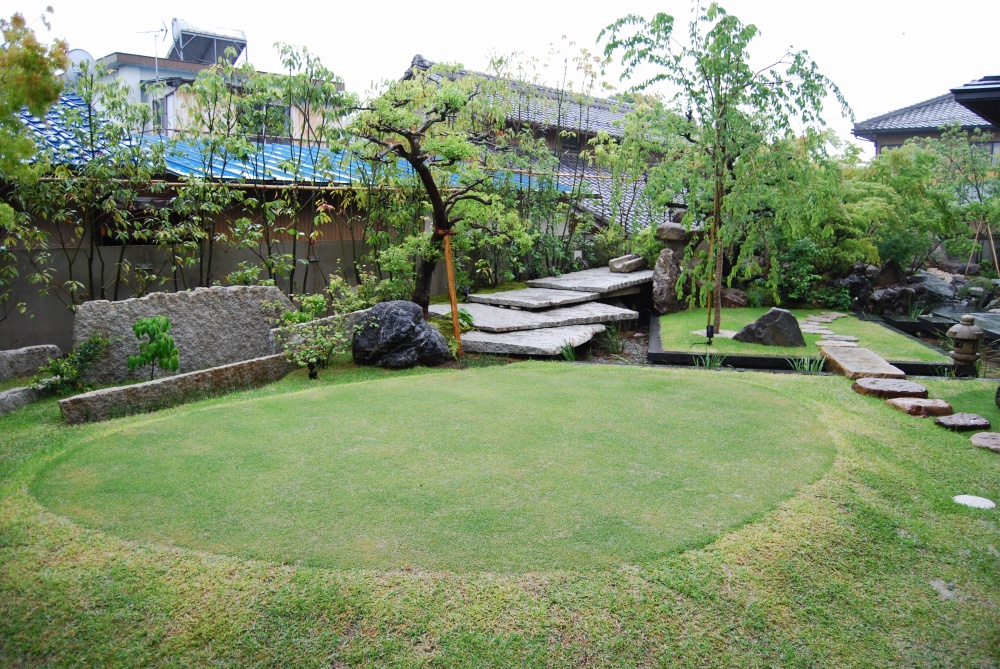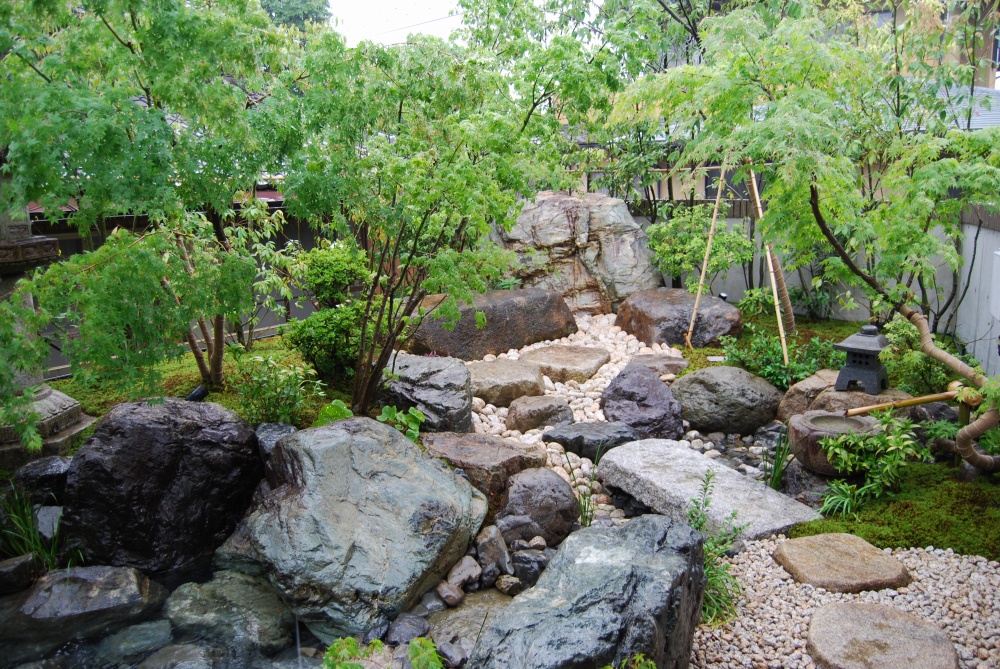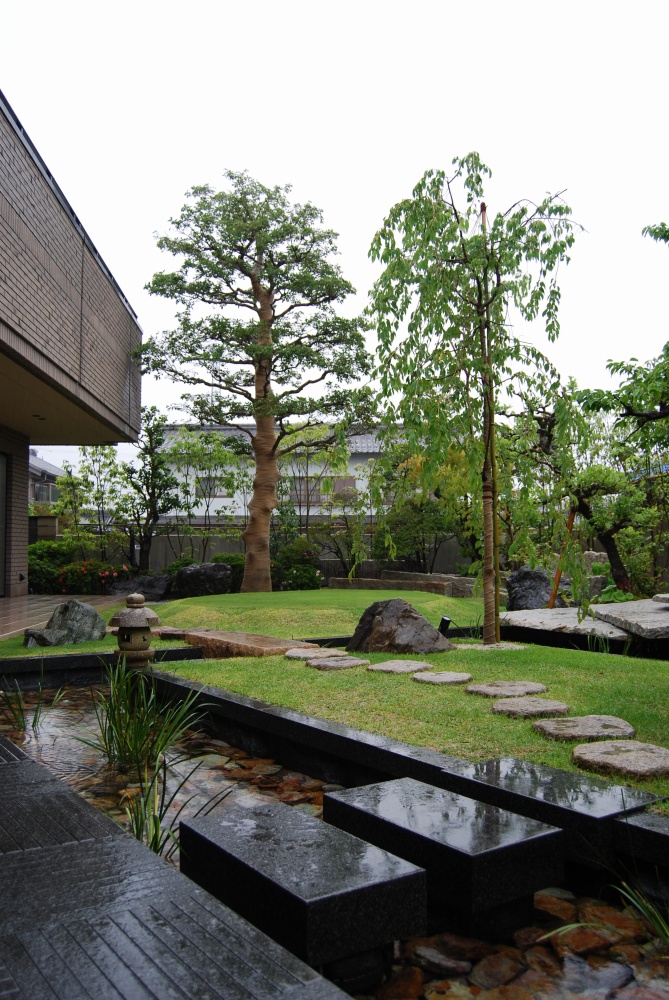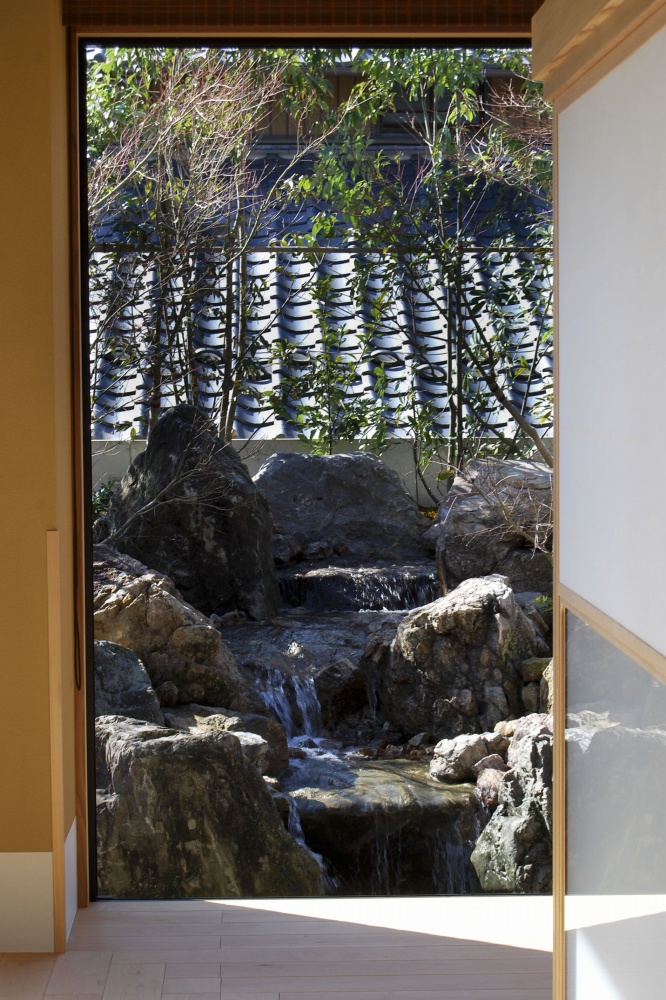 This private domestic garden is located in a residential neighborhood of Seki City in Gifu Prefecture. Ueyakato Landscape created it in response to a commission for a traditional Kyoto-style garden that would harmonize with a newly built home featuring a modern design.
This garden villa is comprised of three gardens: an entrance garden inside the front gate, an inner garden on the living room's north side, and a main garden on the living room's south side that faces the dining room and a Japanese-style room.
The entrance garden stands stones in white sand, surrounds them in semi-cylindrical roof tiles, and adjusts the tiles' shading with rust-colored sand to depict a scene of clouds hanging over mountaintops.
The inner garden features an elegant round Misaki-style lantern surrounded in white sand. There is also an artificial mound with a large 13-tier pagoda and deep pink Kirishima azaleas and dwarf mondo grass planted on it. We used traditional Japanese gardening techniques to liken the artificial mound and white sand to an island floating in the middle of the ocean.
The main garden is built to complement the home's modern design. At the center is a pond flowing along a rectangular-shaped course, with a pond garden and lawn garden flanking both sides. This is a common feature of Kyoto gardens.
The waterfall stone arrangement features a bold design arranging stone slabs in tiers so that water not only flows from the top of the slabs but also drips down from their sides. From there water flows into the rectangular-shaped pond, whose shore stone embankment and stepping stones we created using cut stones.
By contrast, the pond garden uses natural stones for the stream's embankment while retaining strikingly traditional Japanese gardening techniques such as water basin arrangements. We used garden stones virtually synonymous with Kyoto, such as Kurama stones, Kibune stones, and Benikamo stones, all of which belong to the famous Seven Stones of Kyoto's Kamo River. On the other hand, the natural stones used for the waterfall stone arrangement were taken from Gifu's Kakamigahara region. They are chert stones, a stone variety also used in the Kyoto region's oldest gardens.
Hence, in Japanese gardening, the use of local materials goes side by side with the careful consideration put into procuring the right materials from afar. We also were careful to plant not just cherry blossoms and plum blossoms, but also many maples to ensure the garden's autumn leaves would shine vigorously in the fall. Details like these are how a garden combining modern design with traditional Kyoto sensibility is born.
Location: Seki City, Gifu
Accessibility: not open to the public
Garden construction period: in 2013