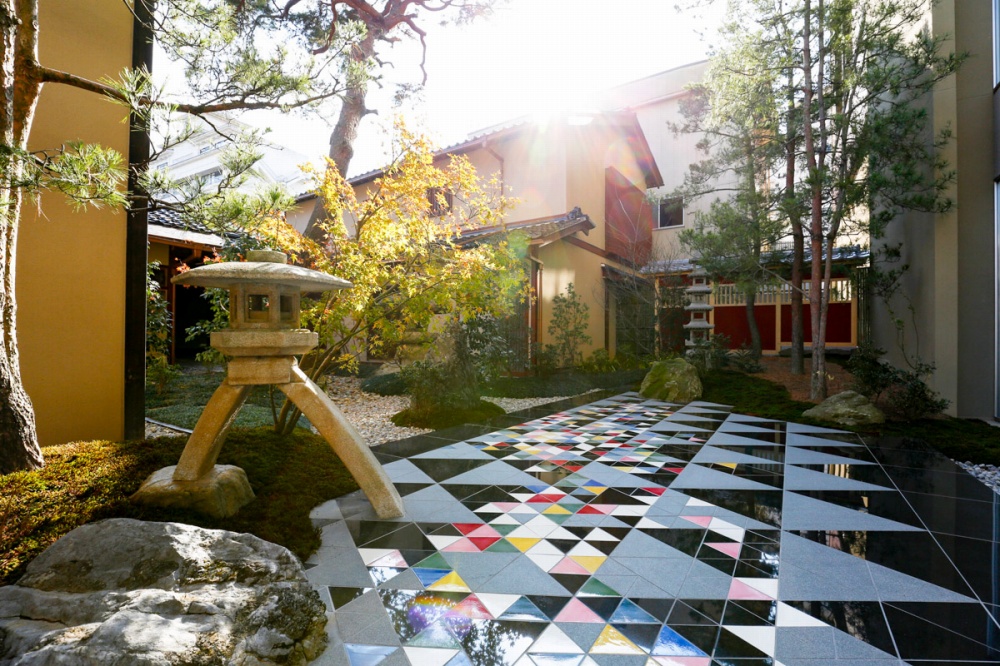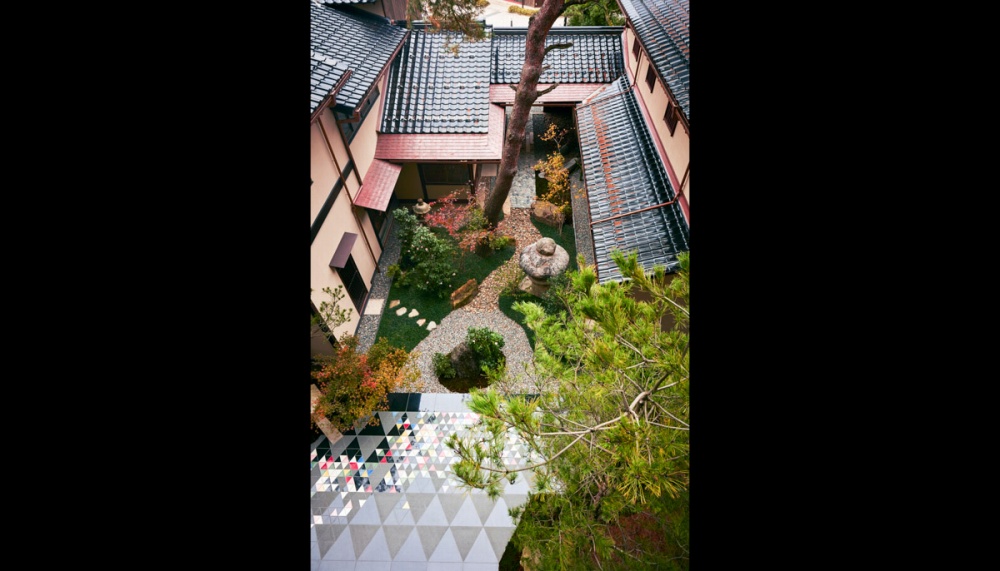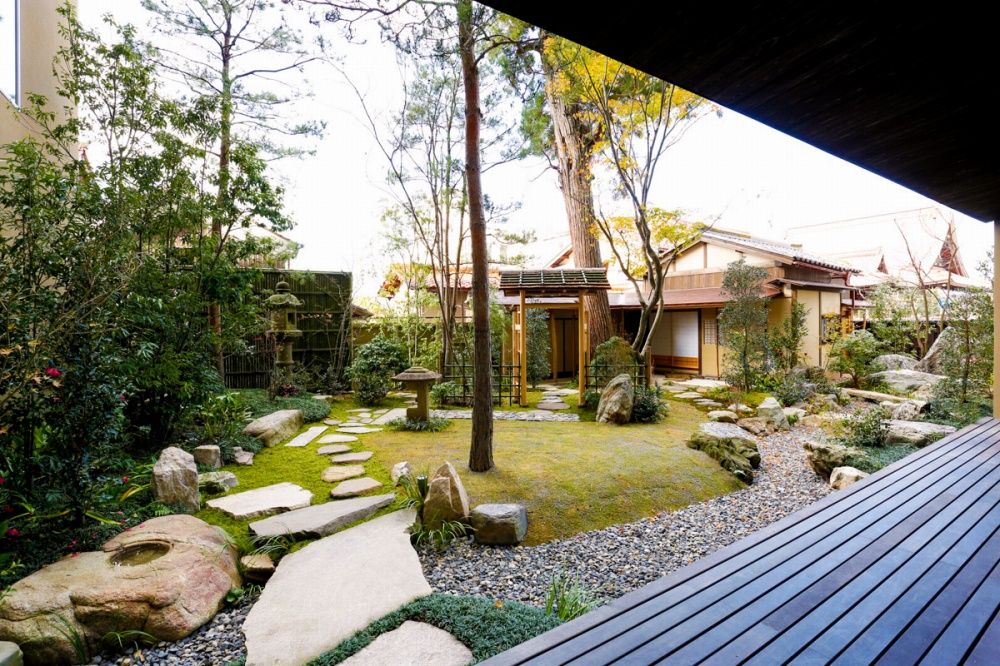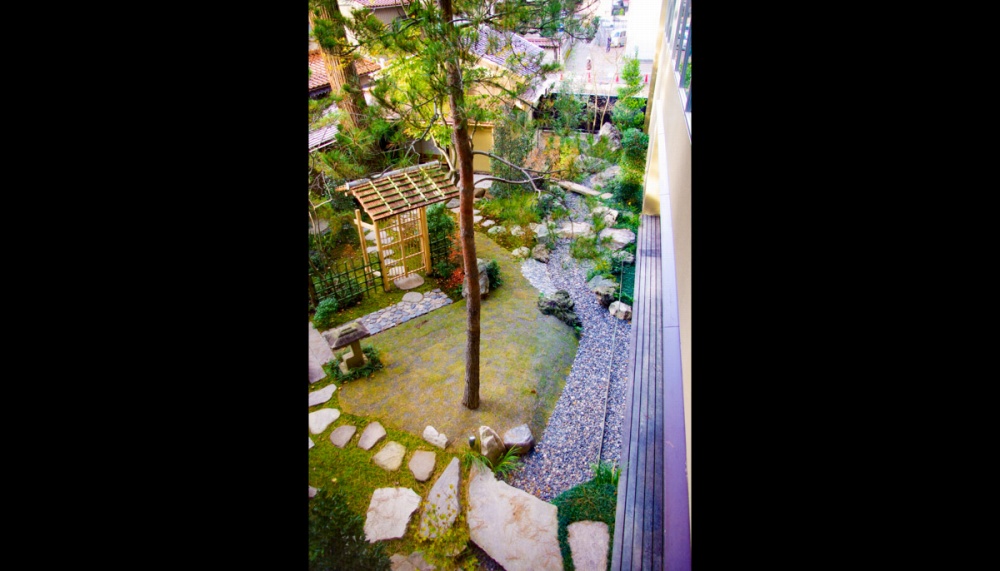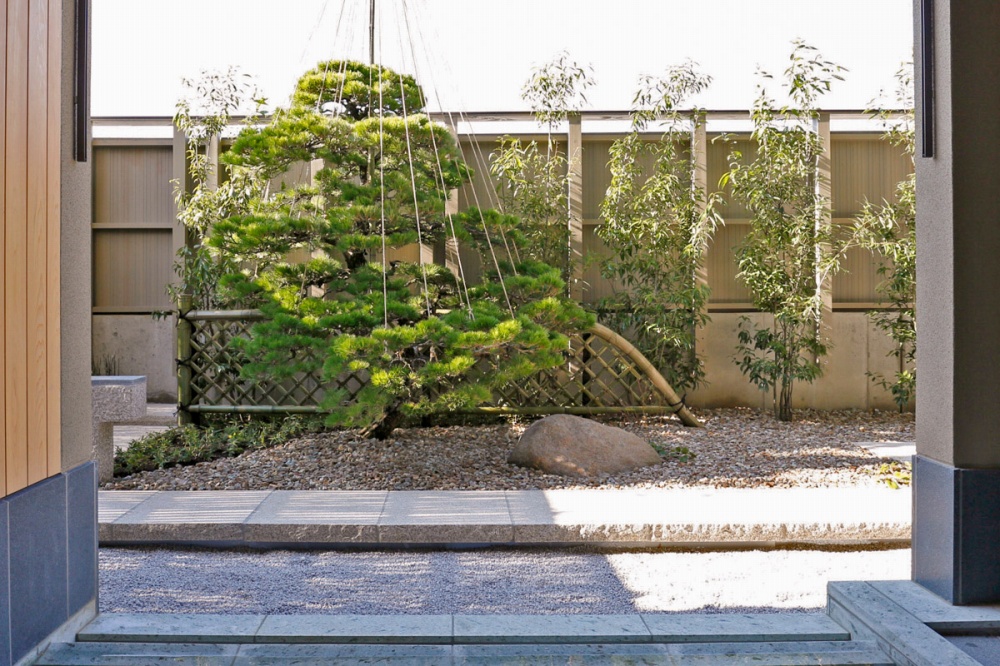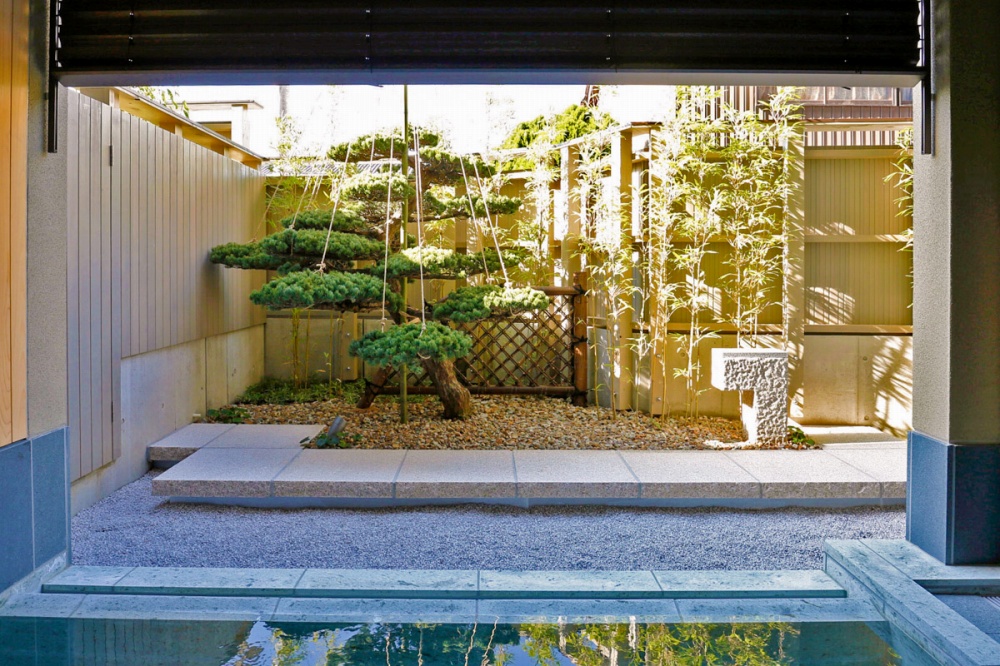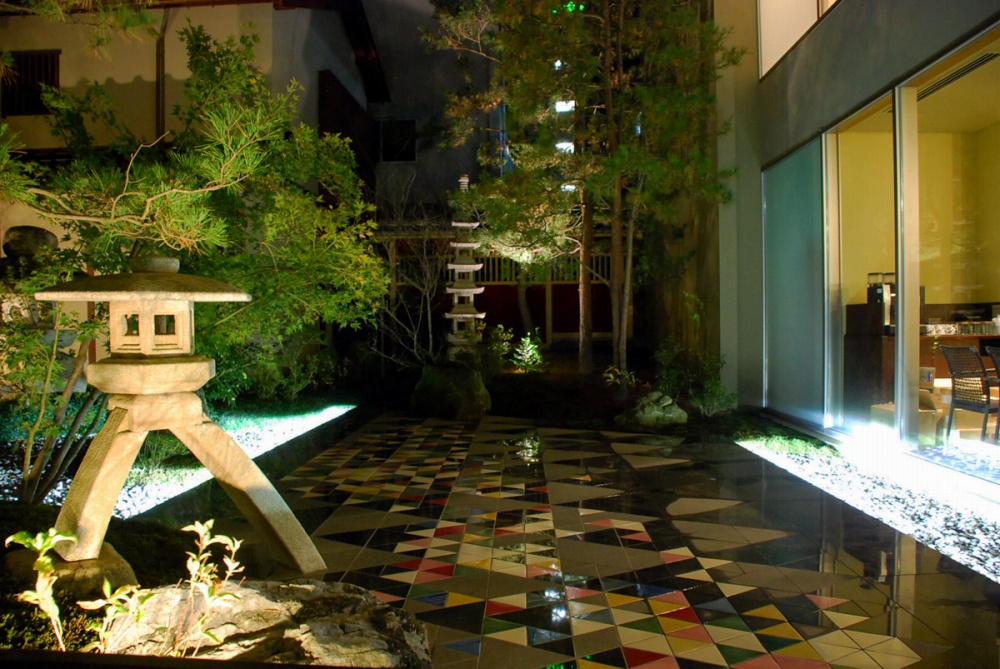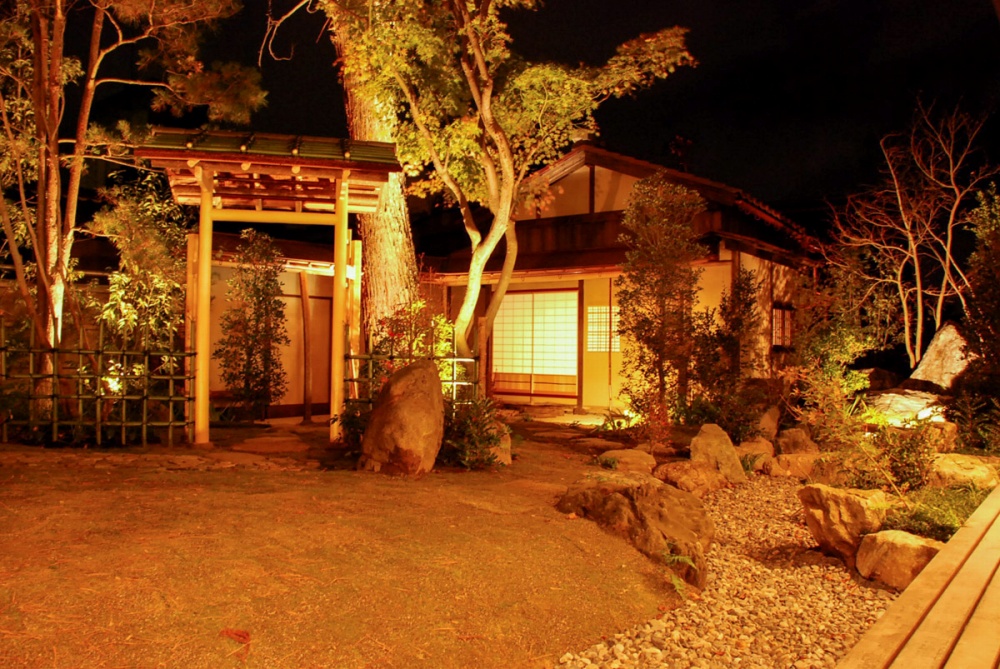 The gardens at Hoshino Resorts KAI Kaga were created according to the concept of "local place." They are gardens that make maximum use of both Ishikawa Prefecture's "local figures" (things and people) and traditional Kyoto technique. The gardens were created by using trees, stones and tiles from Ishikawa Prefecture and with the cooperation of craftsmen whose aesthetic sense, skill and knowledge have been nurtured by Ishikawa culture. Finally, a "river stream" motif is used to spatially connect the Front Garden, Inner Garden and Tea Garden.
Front Garden
Created to be a garden suitable as the first space where guests are greeted. It is a garden that harmonizes with the historical buildings with rouge lattices (bengaragoshi) that are a symbol of the Kaga region. It is a superior and highly refined garden that uses the traditional approaches of master gardeners such as "scattered hailstone pavement" (ararekoboshi) and nobedan pavement.
Inner Garden
This is a garden that allows one to feel the culture of Ishikawa Prefecture and the Kaga region. It is a garden that condenses together Ishikawa culture, with tile patterns that reflect the Kaga area tradition of silk fabric dying (known as yuzen), kotoji stone lanterns* like those found in Kenroku-en Garden, Japanese red pines (akamatsu) from the Noto Peninsula, and red walls painted with a red earth pigment known as bengara. The tiles are made of Kutani porcelain and feature a five colored glaze pattern (green, yellow, purple, indigo and red) known as kutani gosai. This is a dazzling garden where camellias, Noto kirishima azaleas, Japanese maples, wild cherry blossoms, plum blossoms and other trees with vivid seasonal colors can be enjoyed.
Tea Garden
This serene space reminds one of being in the mountains. The large Japanese cedars and old maples associated with the tea houses of gourmet connoisseur Rosanjin allow one to feel the history of this space. We created serene scenery where guests can encounter "the spirit of devoted hospitality" (omotenashi no kokoro) that runs through the tea ceremony and spend a moment of peaceful calm. As the tea garden is located in the upper part of the stream, following the Inner Garden and Front Garden, we have made it into a garden with a striking look and a dynamic waterfall stone arrangement.
Bath Garden
Here we created a scene like that of looking out at a picture from inside a bath. It is a space where time appears to have stopped and no significant changes occur throughout the year. Its spatial composition floats stone countertop islands and moss islands in gravel that is likened to a water surface. The sculpted pines in the stone countertops and bamboo fences (Koetsu-ji Temple fences**) bring an enchanting feeling to this limited amount of space.
In the winter, a feeling of the season and a sense of Ishikawa Prefecture are evoked by wrapping the pines in rope, a practice associated with this area known as yukitsuri traditionally used to protect trees from snow damage.
*Kotoji stone lantern: A two-legged stone lantern associated with Ishikawa Prefecture's Kenroku-en Garden that resembles the bridge of a koto, a Japanese stringed instrument similar to a zither.
**Koetsu-ji Temple fence: A gently curved style of bamboo lattice fence that is unique to Koetsu-ji Temple in Kyoto and is said to have been designed by renowned artist Hon'ami Koetsu (1558-1637).
Location: Yamashiro Onsen in Kaga City, Ishikawa Prefecture
Accessibility: open to the public
Garden construction period: in 2015

Hoshino Resorts KAI Kaga website