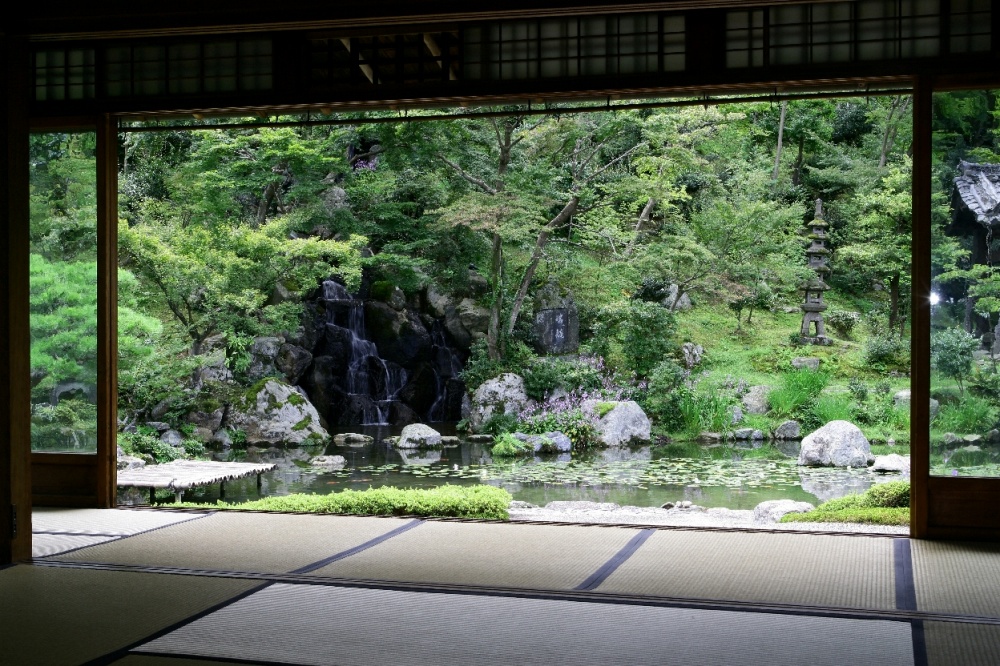 Kaiu-so is a large 19,880m² garden created on the former site of a Nanzen-ji sub-temple dissolved by the government during the Meiji period (1868-1912). It was named Waraku-an ("Villa of Harmony and Peace") by Inabata Katsutaro, the well-known dyed product and motion picture entrepreneur who purchased this land in 1905. After Inabata died in 1949, the villa was bought in 1953 by Omiya Kurakichi, who made it his residence and changed its name to Kaiu-so*, the name it is still referred to by today.
The garden is broadly divided into upper and lower tiers. On the lower tier, there is the main house and a pond garden with a stream and waterfall. In particular, the 15m "Zuiryu Waterfall," so named by the politician Saionji Kinmochi because it faces Mt. Zuiryu, and the borrowed landscape of the Higashiyama Mountains in the background make for a magnificent view.
The upper tier has a thatched roof tearoom with a panoramic view of Kyoto, and there is also a tunnel built halfway up the slope leading to the tearoom that has a sunken basin arrangement in it. Thus, this is a superior-quality garden that makes full use of the large elevation differences in its topography.
*The name Kaiu-so literally means "A Villa with Something There," and is adopted from the Zen saying, "There seems to be something, but there isn't; there seems to be nothing, yet there's something there."