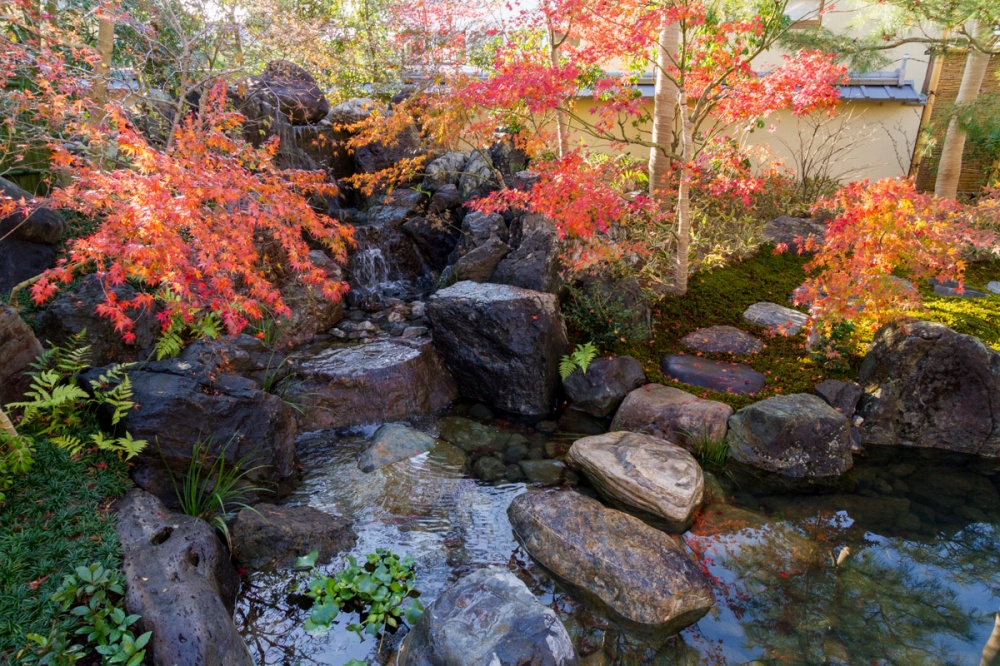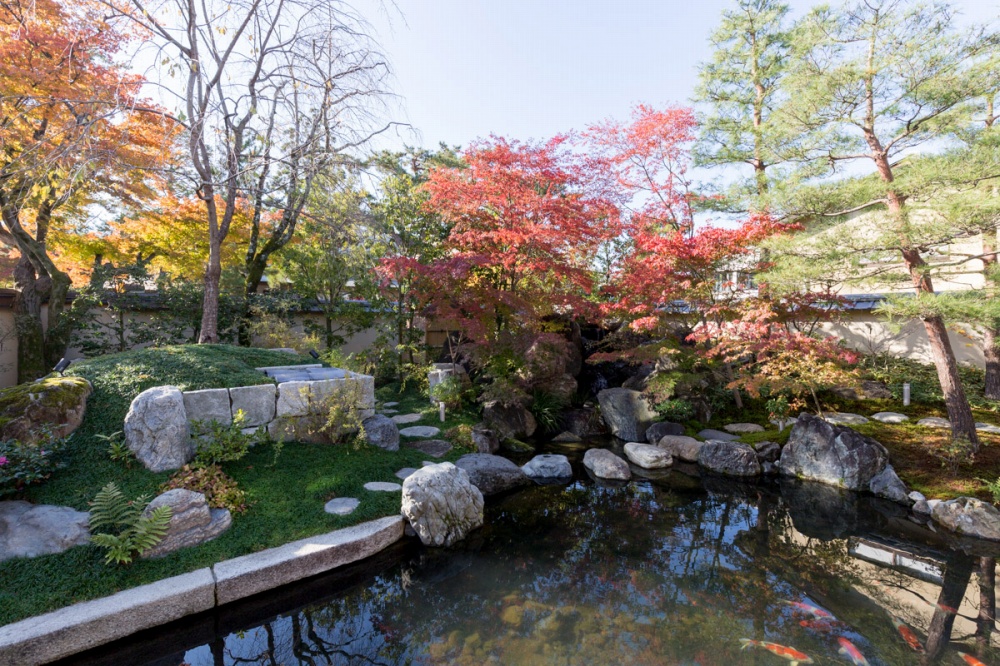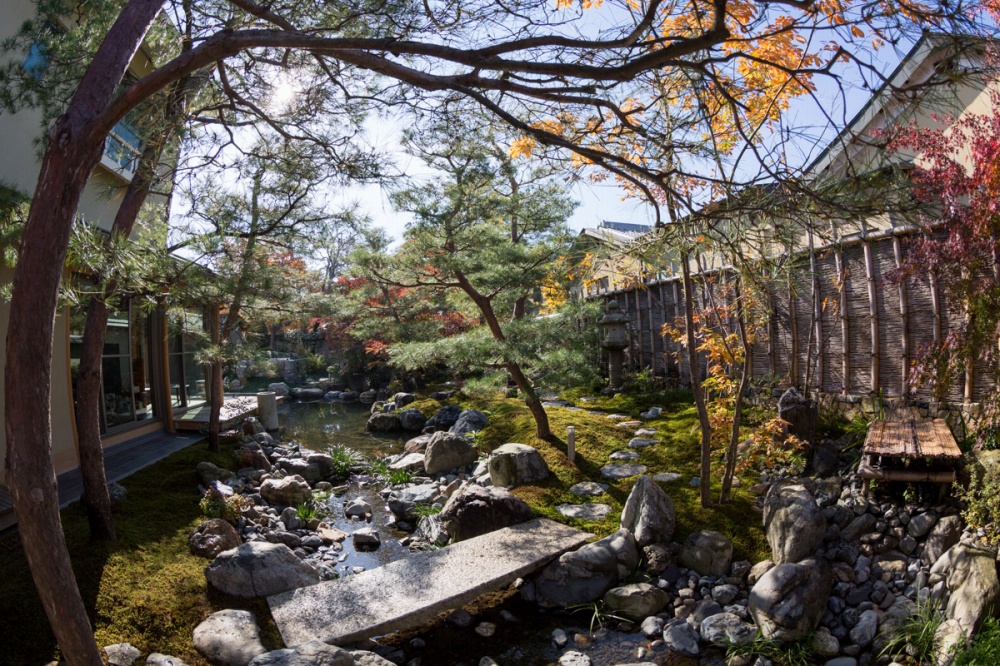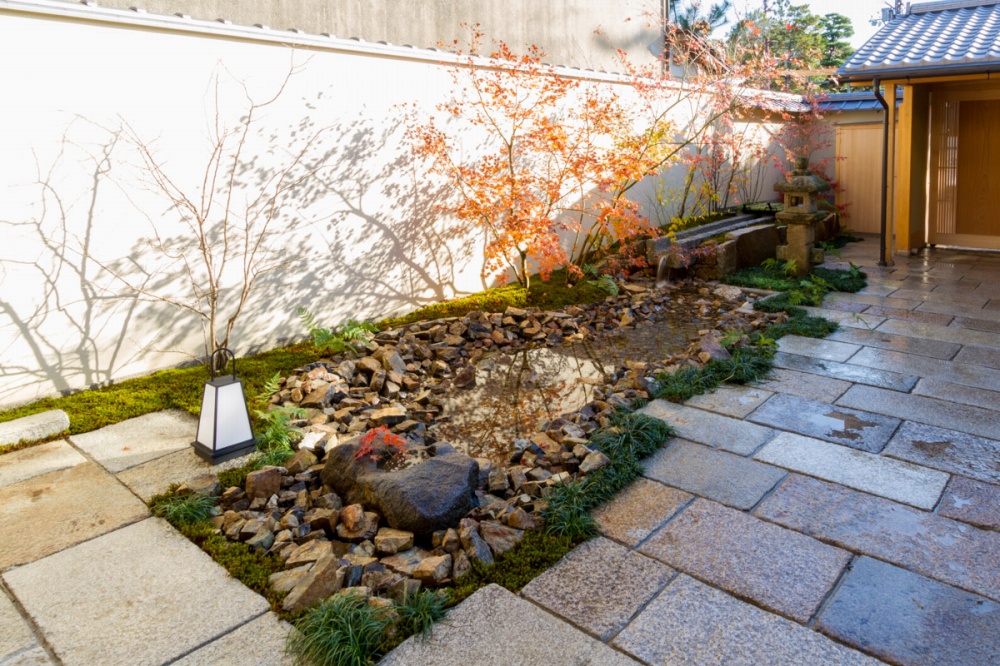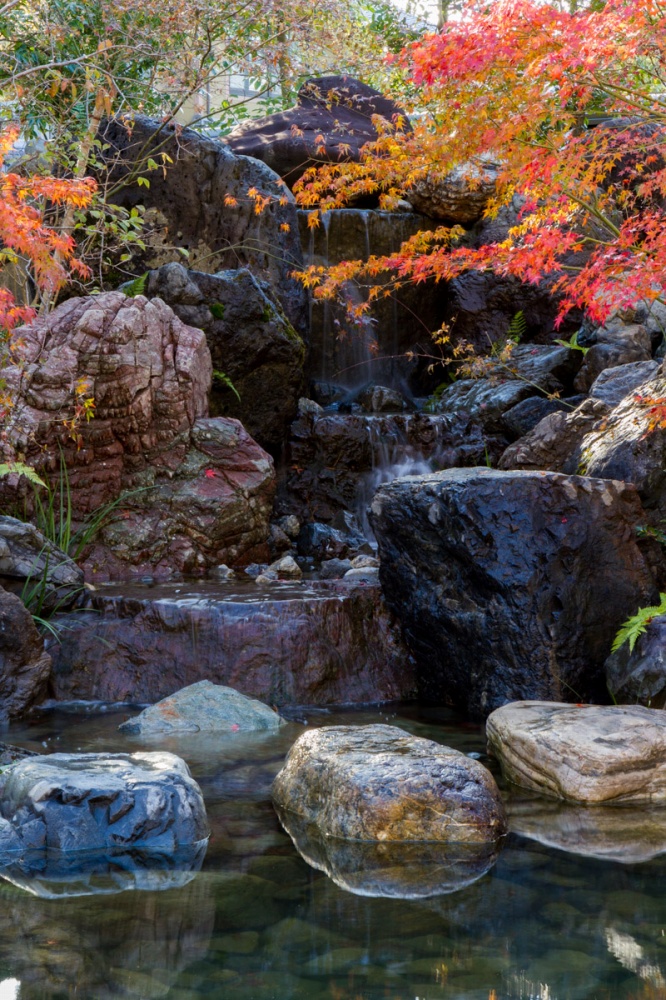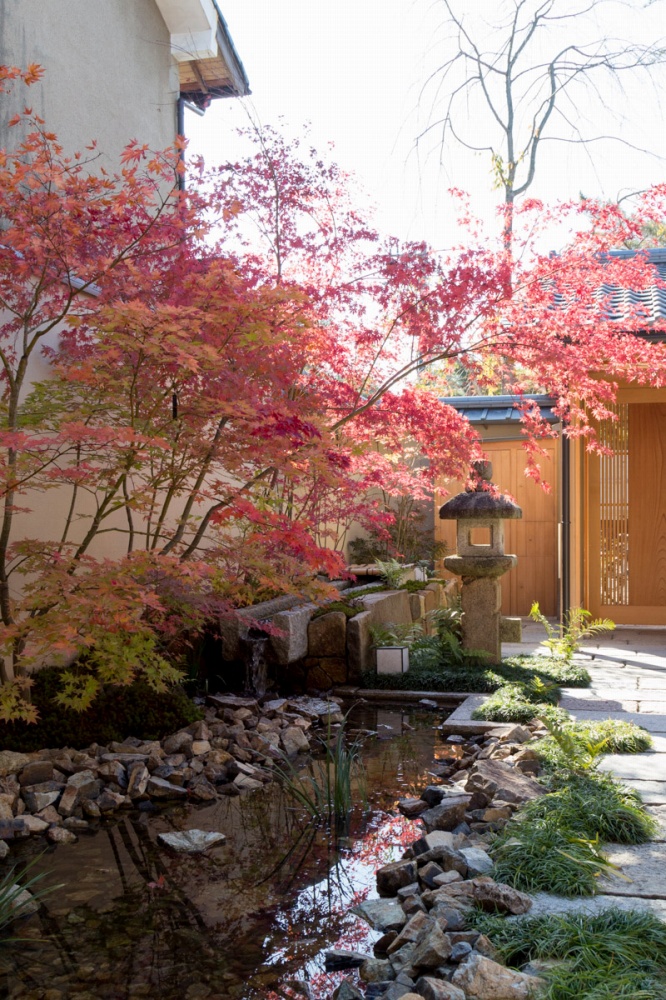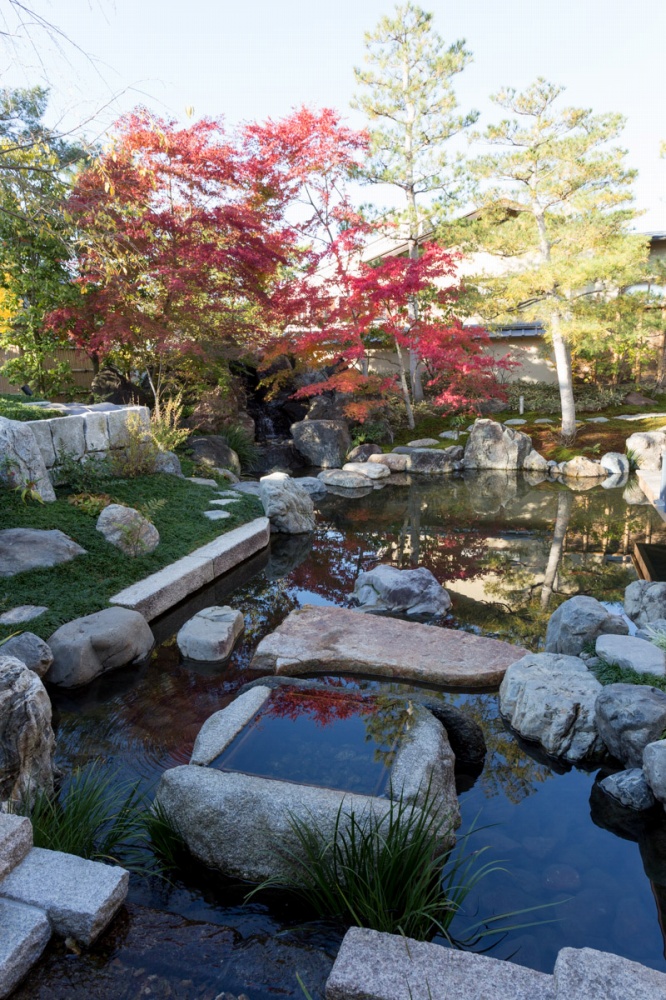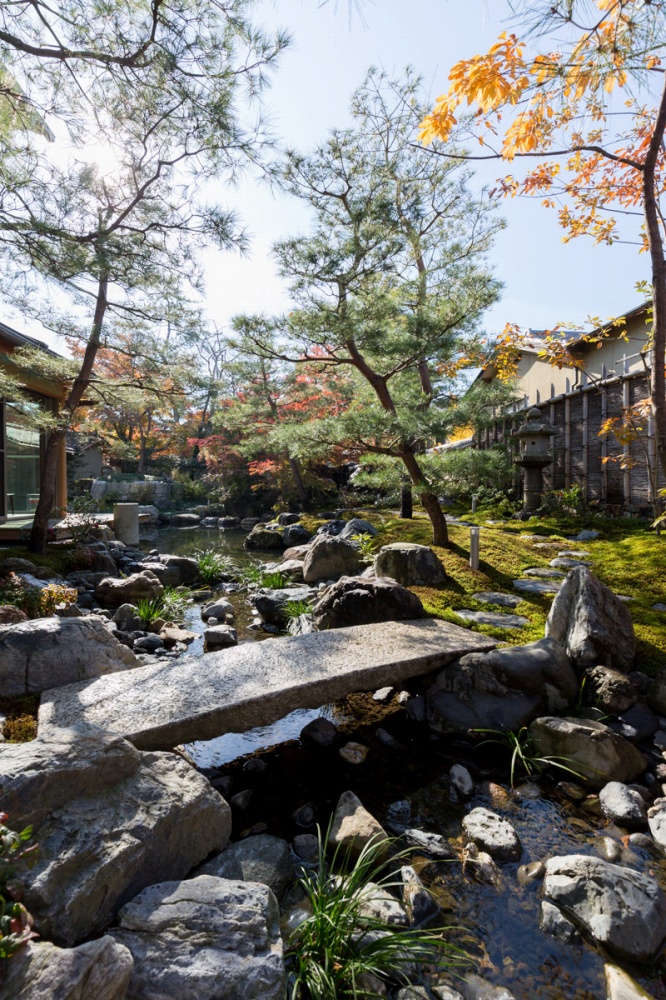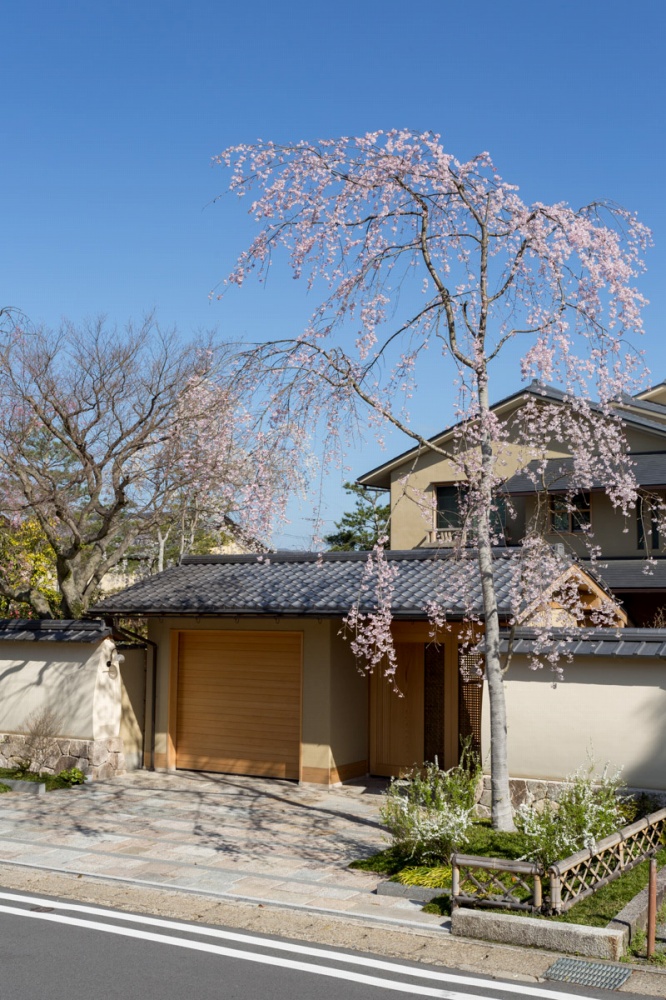 Ueyakato Landscape created this private residential garden in Kyoto's Nanzen-ji Temple neighborhood to complement a house newly built on the property as a second home.
Partly because the property lies close to Nanzen-ji Temple, its main house is done in a traditional sukiya (or tea aficionado) architectural style. Similarly, the garden is a traditional Japanese garden broadly divided into three sub-gardens: an entrance garden, a pond garden facing the living room and dining room, and a small inner garden at the back of the property's north side.
To the right of the flagstone garden path connecting the entrance to the front door, water flows from a stone trough into a stream that enters a water basin. Here in the Nanzen-ji Temple neighborhood, many of the gardens use the Lake Biwa Canal as a water source. This stream's water source also comes from the Lake Biwa Canal, which means its water is plentiful enough to travel underneath the water basin's bottom into the pond garden on the other side of the garden path.
The main garden is a pond garden with a view that extends back toward the house's living room and dining room. The property is long and narrow in the north-south direction and the pond spreads over it almost as though to fill it up. On the garden's south side, a large waterfall stone arrangement has been installed. The pond not only features a stone bridge and water-crossing stones, but water gushes out from a stone well curb. Such flourishes call to mind the many gardens created in the Nanzen-ji Temple neighborhood since the end of the nineteenth century that combine traditional techniques with a spacious atmosphere.
The small inner garden provides a background for a waiting arbor used for the large tea room (hiroma) and the hand-washing basin. It also features an old plum tree in front of a fence made of bamboo sheaves that draws the eye.
The garden uses famous Kyoto stones taken from the Seven Stones of the Kamo River, including Kibune stones and Kurama stones. Trees such as cherry blossoms, maples and Japanese red pines (akamatsu)-a nod to the Higashiyama area's original pine forest landscape-allow visitors to savor changing scenery in each season, from early spring through the periods of fresh spring greenery and autumn colors.
By incorporating an abundance of traditional approaches, this private residential garden warmly complements the natural beauty and historical legacy of Kyoto's Nanzen-ji Temple neighborhood.
Location: Sakyo-ku, Kyoto
Accessibility: not open to the public
Garden construction period: in 2012