Gardener interview No. 2:Yoshiyuki Tajiri(Executive of Ueyakato Landscape)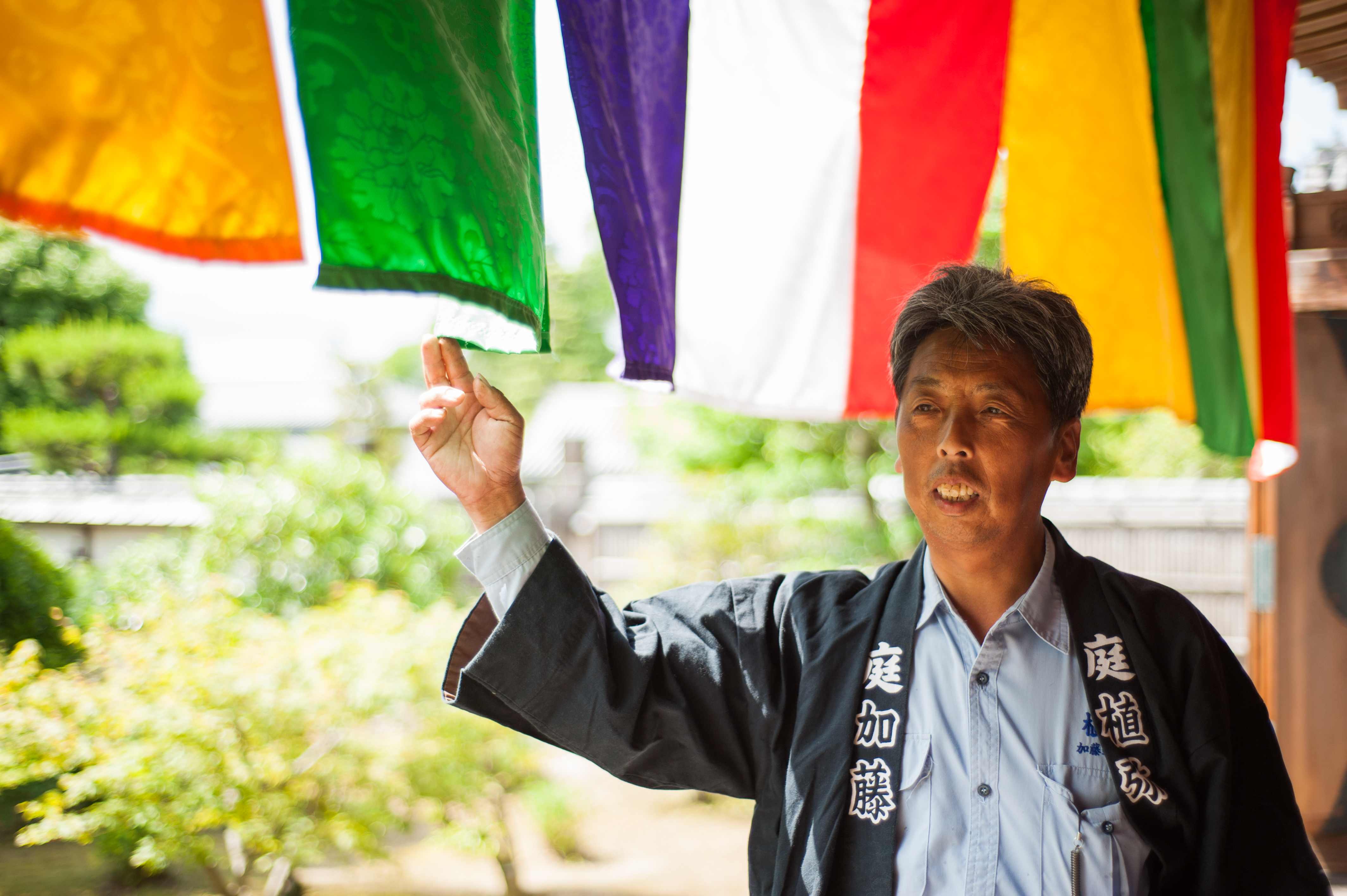 [Gardener interview]
No. 2:Yoshiyuki Tajiri(Executive of Ueyakato Landscape)
"Gardener Interview" introduces the people who work at Ueyakato Landscape. This time, we interviewed Ueyakato Landscape executive Yoshiyuki Tajiri.
――How long have you been working in the landscaping and gardening fields?
35 years. I entered this world when I was 19.
――What led you to pursue landscaping work?
It started around middle school. I decided I'd rather work with my hands than be a company employee. While I was deciding what high school to go to, the Kyoto Landscape Contractors' Association created Kyoto Prefecture's first vocational school for landscaping.
They had subjects like agriculture, landscaping, and civil works. So in a fit of inspiration, I decided on landscaping. To do landscaping, all you needed was your own body. And gardens never disappear. So I decided on this job because thought there'd be security in it even after I got older.
And most of all, I've always been fond of plants and animals.
――Before you entered vocational school, had you had any chances to come into contact with landscaping work?
Of course, I had lots of chances to see it.
Gardeners had this image of being artisans, and that was attractive to me.
My teacher when I entered the school was a landscaping specialist who had graduated from Tokyo Agriculture University. He had worksite experience and technical skills. That teacher taught me how wonderful landscaping is.
――During your school training, were there any gardens that made an impression on you?
What I really remember is visiting Nanzen-ji Temple and Murin-an Garden. That sure brings back memories!
For three years, I got to observe many different temples.
At that time, there were several landscaping companies that were hiring, but I think most of them were construction management jobs.
I chose Ueyakato because meals came included in the work.
――Was it your school training that led to your lead to your working at Ueyakato Landscape?
A big reason was that Yasuo Kato, the head of the company in the previous generation, took such good care of me.
He was a very important person for me and someone whom I respect. Both as a mentor and as a person, he was somebody I could trust.
On the other hand, there was a lot that was tough too (laughs). It was completely usual to be lectured for 1-2 hours during mealtime, with your food sitting in front of you. But he liked to talk.
In the old days, whenever we returned to the company after working at the garden, Yasuo would be there, sitting on the staircase, lighting a fire, or watering something. And he'd ask you, "How did things go today?" For a young gardener, having someone listen to you about how things went is really a big deal.
He would always say "Tajiri, Tajiri," and talk to me, even though back then I couldn't do anything. So it made me feel like doing my best. Whenever you asked him anything, he would immediately answer you, "That's over there. This's over here." He made it so that you could get prepared. He acknowledged everyday efforts, and I thought I would make that into my strength in the company.
――How many employees were there when you joined the company?
There weren't even ten. Seven or eight, maybe five or six. Somebody was at Nanzen-ji Temple and Higashi Hongan-ji Temple every day.
Every year, there would be annual management work for Kyoto's street trees and parks. And at the end of the business year, we would do planting for public works projects.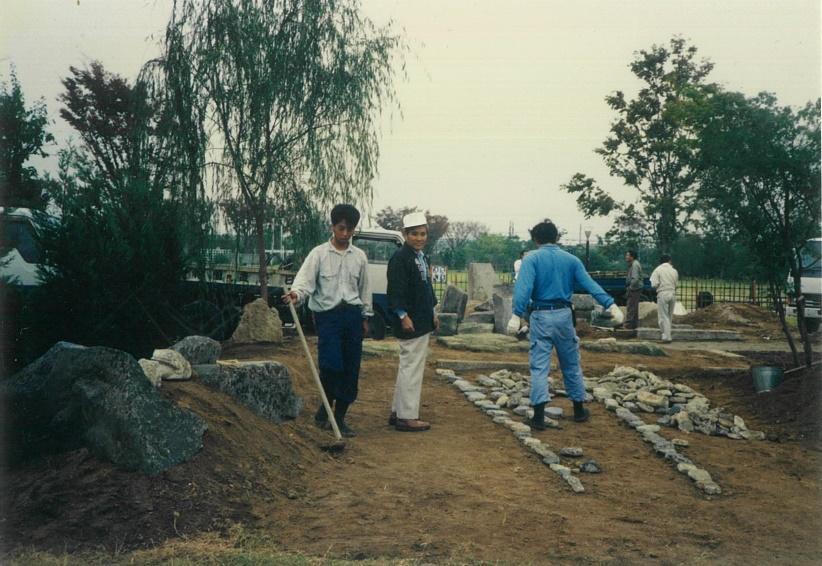 ――It's often said that the trees along Kyoto streets are very pretty.
Since long ago, they've always had that cylindrical shape. In Kyoto, the style has always been to unify the trees' height somewhat and make pretty rows of them. I think the Landscape Contractors' Association takes pride in that work.
When people get off at Kyoto Station, and there's that pretty row of trees there, I hope they really get the feeling that they've come to Kyoto.
――Is there any garden you especially remember working at?
Five or six years after I joined the company--back then even for street trees we were still plucking underbrush by hand. Now it's done by machines though. At the time, I still hadn't gotten my safety management qualifications, so the person who climbed the tree would cut the branches and my job was to clean them up quickly.
So I wasn't always involved in garden creation. I would help manage gardens someone else had created. I would go buy materials. And I would clean up. I wasn't always at a garden construction site.
The first garden creation project I was in involved was a private residential garden in Ozaki City, Gifu Prefecture. That was the first time I was in charge and that I came up with the garden's look through discussions I had with the owner based on a design concept from our own design department. I've worked for 35 years, but that garden in Ozaki sticks out the most in my memories.
We used natural stones, triad stone arrangements, natural streams…
And the Ozaki garden is a garden that recycles all the things that the owner had kept of his own. The fact that the owner was happy with it was what made me happiest of all.
――When do you feel most fulfilled in your work?
Well of course, when customers compliment me!
When I get to do a garden for a private residence, I like it when they say, "It looks so pretty now," "That's just like Ueyakato Landscape," or "It looks more like a garden now."
What makes me even happier is when they remember my face and say they're counting on me with a smile! On the other hand, if they say "It looks neater now," that makes the work sound simplistic. So I hope to give the garden care that really conveys the appeal that it has.
――What's your specialty?
I do take pride in my pruning (laughs).
Cut down trees at the right speed; interpret what the customer wants in terms of the impression the entire space makes; create a management plan that considers cost so that things stay within the budget. I think I'm good at figuring out where work needs to be done carefully and where it can be done rougher and then getting that done. In other words, landscape creation.
――Do you have any points of pride as an artisan?
Making a space as attractive as possible within the amount of money in the estimate.
And listening to young people.
I want to make a point of listening to young people who come back from the worksite, while at the same time joking around with them.
I ask them, "How were things at the worksite? How'd that test go?" Sometimes I instruct them. I want to do those sorts of things for them as much as I can.
That's also what I learned from Yasuo and what he gave me the chance to experience.
――Tell us your dream as an artisan.
To be kind. I think you've got to pass on your technical skills to young people.
The garden skills that gardeners always used their hands for—like creating gardens with natural stones— I feel like these skills are declining now. Instead of just having gardeners line up tiles without any skill, I want to pass these skills on.
――In the future, what do you think the role of Japanese gardens in society will be?
The stressfulness of society is going to get worse. As mechanization advances, I think places where people can relax are going to disappear. The cost of land is going up, and there are fewer instances of people building gardens where they can relax in their homes.
So I think we have to build places that soothe, calm, and relax people.
Another thing is that I think we have to create Japanese gardens that help people feel like trying to do their best again. Finally, I also want landscaping companies to realize that there are incredible gardens right in their own neighborhoods. I want there to be more gardeners in local areas who have taste and pride who will want to keep those gardens looking beautiful.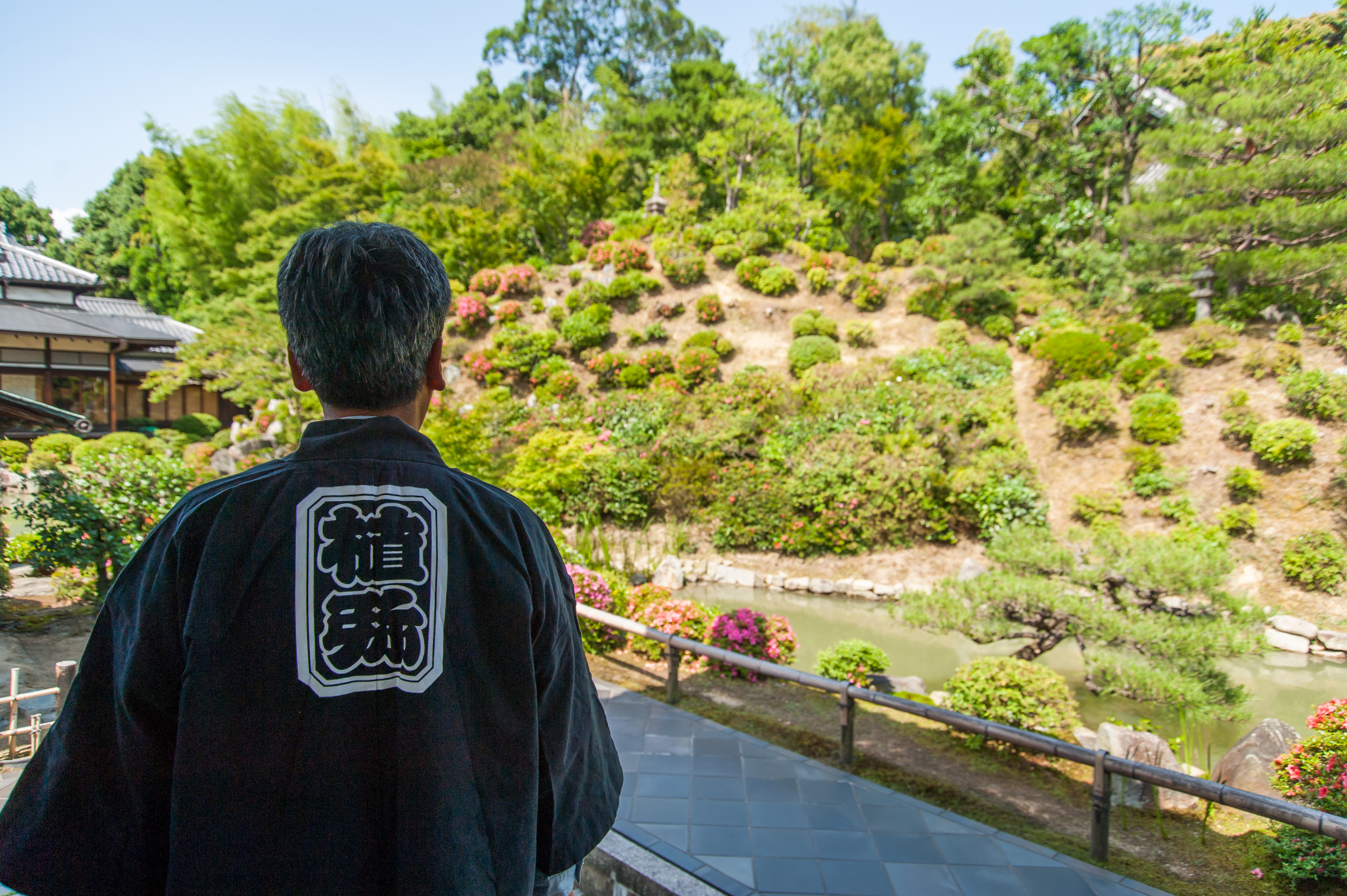 (Spring 2022)
photo:Yujiro Sagami text:Ueyakato Landscape, Heritage and Garden Artistry Division