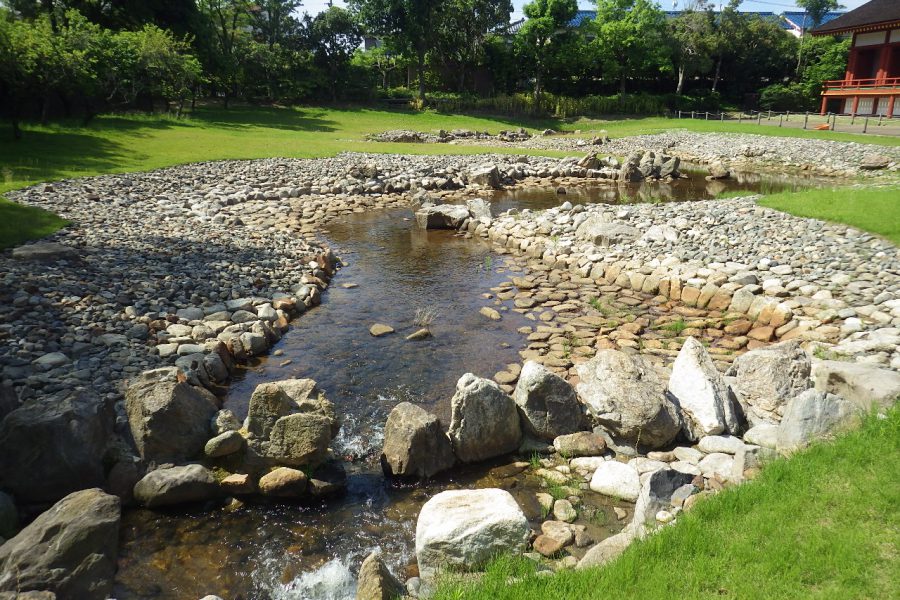 The 1975 discovery of the Imperial Villa Garden Site of the Ancient Nara Capital revealed the extent to which pebble beaches were used in Japanese gardens in the eighth century.
Suhama: The Pebble Beach
In Japan, gardens largely began as forms through which to emulate Chinese civilization. Today, however, they are renowned across the world as one of the country's most emblematic forms of native cultural expression. How did this happen? The question defies any conclusive answer, yet so many Japanese garden elements that entice us into asking it. Of these, perhaps most tantalizing of all is the pebble beach (suhama), that naturalistic expression of Japan's coastline that seems to epitomize the Japanese garden tradition.
In the seventh century, Japanese gardens were mostly conceptual affairs, ornamental square ponds with "island" centers that symbolically expressed the desire for immortality. Yet these angular gardens all but vanished in the eighth century after Japan founded a new capital at Nara. Instead, we see a startling turn toward soft sloping lines of pebbled beaches. Pebbled beaches existed at Chinese pond gardens in the mid-seventh century, but here the transformation is stark; even the pond bottom, once laid with stones, is paved with pebbles. Pond gardens had become vehicles for expressing Japanese ocean scenery.
With Kyoto's establishment as the nation's capital, pebble beach techniques flourished. These shorelines evolved into refined garden scenery well suited for the political and ritual needs of noble residences and Buddhist temples. In the fourteenth century, however, the pebbles used to create these winding beachlines were replaced by three-dimensional stone designs that no longer merely expressed coastline scenery, but raised the boundary between stone and water into an abstract design to be enjoyed in purely visual terms. Pebble beaches were rehabilitated in the seventeenth century, but now as playful yet graceful designs of tempestuous ocean scenery for guests to encounter on their way to a tea ceremony. Then, in the modern period's natural landscape gardens, we discover pebble beach designs that seamlessly blend into scenery recreating familiar natural landscapes at their full scale.
The pebble beach thus contains tremendous power to express the scenery that their owners most long to make their own. Perhaps this simple explanation best helps us not only to understand the vital role it has played in Japanese garden history, but also to imagine its future.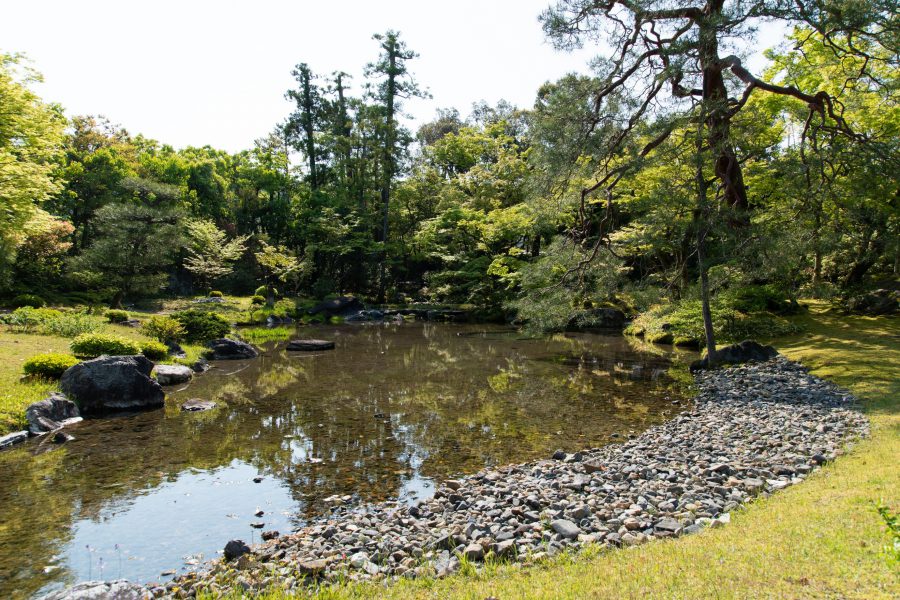 Murin-an's pebble beach resembles a literal depiction of stones deposited on the outer edge of a river bend, rather than the symbolic representation of an oceanscape.