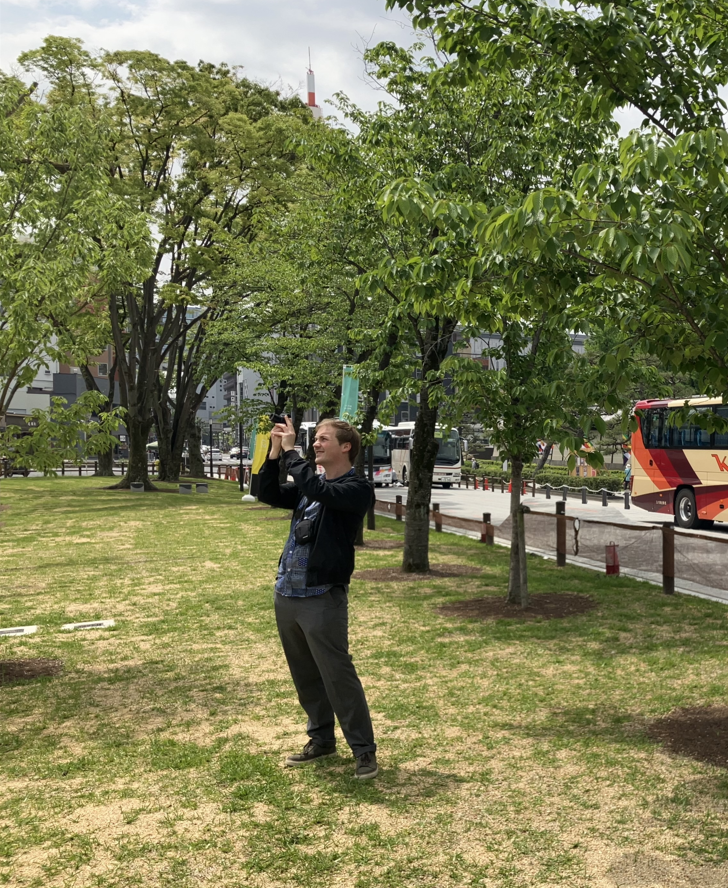 On April 21, Ueyakato Landscape welcomed Tom van den Wijngaard, graduate student in Landscape Architecture at Holland's Delft University of Technology, for a one-day internship.

Van den Wijngaard's research investigates how to adapt approaches from Japanese street tree and garden management to the challenges currently facing street trees in Holland. Hisanori Hashimoto of our gardening department introduced van den Wijngaard to some of Ueyakato Landscape's past examples of street tree management in Kyoto and our latest efforts for a new public greening project ("Shimin Ryokuchi") by Higashi Hongan-ji Temple and Kyoto City to integrate the temple's greenery with urban street trees.
We also gave him a tour of Murin-an, a modern Japanese garden masterpiece under Ueyakato Landscape's designated management, and explained how we nurture its scenery in accordance with its history and unique character.

It was a pleasure meeting van den Wijngaard and learning about his ideas for adapting Japanese lessons to greening efforts in Holland. We wish him great success with his research and look forward to his findings.